UEFA to sanction Russia over stadium violence, threatens disqualification for English, Russian teams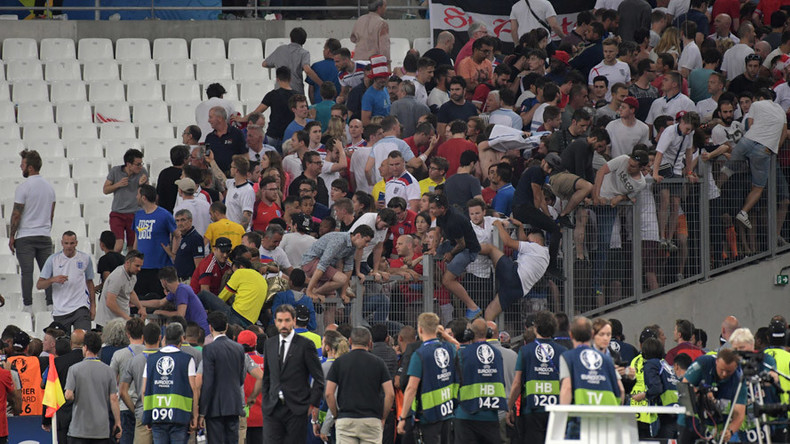 Russia faces disciplinary sanctions after Europe's football ruling body UEFA opened an investigation into the behavior of Russian fans, who stormed an English fan sector, following the draw between the two teams last night at Euro 2016.
READ MORE: Marseille mayhem: Russia fans break into English sector, violence erupts after Euro 2016 draw
UEFA has also threatened to throw both Russia and England out of the tournament if there is further unrest.
"UEFA expresses its utter disgust for the violent clashes that occurred in the city centre of Marseille, and its serious concern for the incidents at the end of the match inside Stade Velodrome," a statement on Uefa.com said. "This kind of behaviour is totally unacceptable and has no place in football."
While both sets of fans were involved in clashes in Marseille in the days and hours before the match, UEFA only has the authority to directly charge those causing trouble inside and next to the stadium.
"Disciplinary proceedings have been opened against the Russian Football Union (RFS) for the following events occurring inside the stadium: crowd disturbances, setting off of fireworks and throwing of missiles. A decision on the sanctions to be imposed will be made within the next few days, once the RFS has been able to submit written statements and evidence," UEFA said.
The head of the RFS and Russia's sports minister, Vitaly Mutko, said he agreed with UEFA's decision. He admitted there were "clashes, illegal flares, and a fireworks launcher" in the stands at the Stade Velodrome.
"We need to identify the troublemakers, so that they don't attend any matches, or travel anywhere. They think they are 'heroes', that the country of 140 million – which will host the next World Cup - is behind them, but actually they bring shame upon it," said Mutko, who refused to predict the extent of the sanctions.
UEFA then released a separate statement, cautioning both teams against further clashes.
"The UEFA Executive Committee has warned both football associations that - irrespective of any decisions taken by the independent disciplinary bodies relating to incidents inside the stadium - it will not hesitate to impose additional sanctions, including the potential disqualification of their respective teams from the tournament, should such violence occur again," the Switzerland-headquartered organization stated.
The two sets of fans will soon find themselves in close proximity again. Russia plays Slovakia in Lille, in the northeast of the country on Wednesday, and England plays Wales in Lens, located less than 30km away, the following day. Both sets of fans have likely booked hotels in Lille.
The UK government has offered to send more police to act as "spotters" of potential hooligans in the crowds, and has said it has reinforced its border controls to prevent them from leaving the country.
A government statement noted that six British nationals remain in hospital, following Saturday's clashes.