Theft, vandalism & threats: RT, Ruptly reporters attacked in Lille while covering Euro 2016 unrest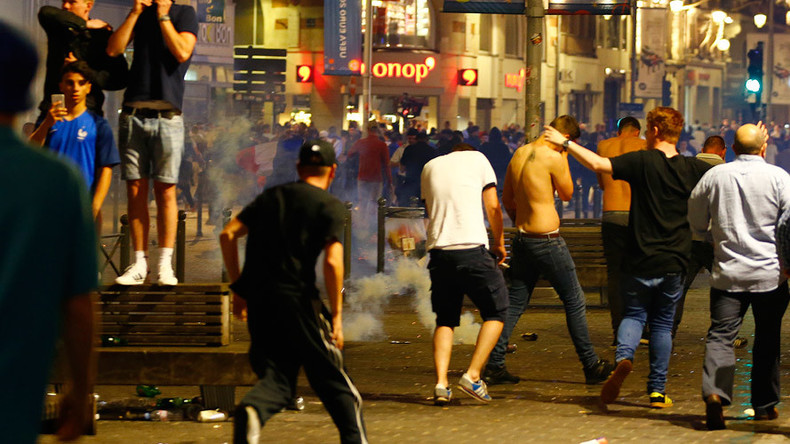 RT and Ruptly reporters covering the unrest in the French city of Lille, one of the sites hosting Euro 2016, have come under attack by England fans. The brawls ended in broken equipment, live streams being cut short and the theft of a cell phone.
Football fans, including a large group of England supporters, took to the streets of Lille on Wednesday following the end of the Euro 2016 Group B match between Russia and Slovakia at the Stade Pierre Mauroy.
Ruptly producers and a cameraman were caught up in trouble as they reportedly followed England fans who they claimed were searching for Russian supporters.
At one point the Ruptly crew turned into a dark side street with no other reporters or police officers present, field producer Pedro Branco said.
"They broke the camera and the cable connecting it. We were assaulted because we were the only non-English people there, not football fans and there were no police or other reporters," Branco noted.
There was a fairly strong police presence during the day with English and Welsh officers assisting the French authorities. However, when "the hunt was taking place" and England fans "were just walking around the city looking for Russia fans, it felt like there were not enough officers," according to Branco.
The situation was under control for the most part of the day, said another producer, Dmitry Kukushkin, although the atmosphere became tense closer to the evening.
READ MORE: Police chase England fans through night Lille, deploy tear gas & water cannon (VIDEO)
"Two Russia fans carrying national flags came to a bar. They wanted to have a beer, but English supporters tried to kick them out of the place. The Russians have just arrived in Lille and were not aware of the tensions between Russian and English supporters. We saw that one of them was punched in the face and in the ribs. They left right away," he said.
READ MORE: Lille mayhem: English fans throw change at kids in the street to watch them fight over it (VIDEO)
Earlier in the day, RT's Harry Fear had to cut short his live coverage from Lille due to interference from England fans. There were concerns the situation could have escalated into a larger argument, and the broadcast was halted.
In Marseille, an RT France reporter was mugged while live-streaming on Facebook. The last minutes of the footage show the thief running away from the scene.
On Wednesday Lille saw a new wave of violent scuffles between football fans and French police, who were forced to use tear gas and stun grenades to disperse the crowd. At least 36 people were detained while 16 more were hospitalized.
You can share this story on social media: