Police chase England fans through night Lille, deploy tear gas & water cannon (VIDEO)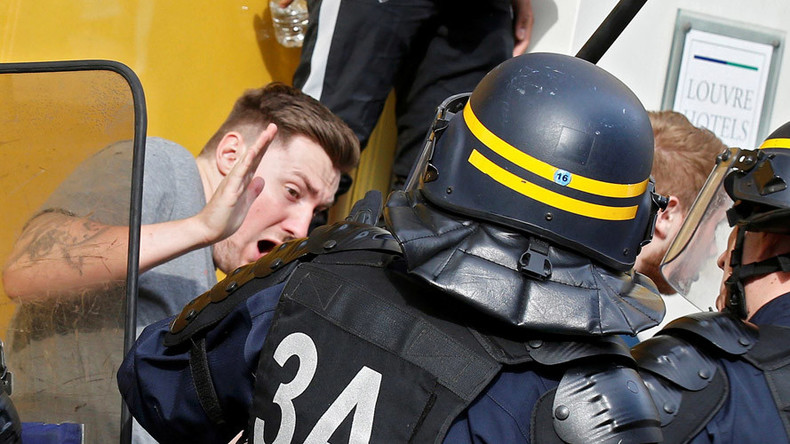 Dozens of mainly English fans were arrested and 16 hospitalized following clashes with police in the streets of Lille that continued late on Wednesday. In an attempt to prevent skirmishes between rival fans, police deployed tear gas and water cannons.
"In total, since this morning, security forces have made 36 arrests," a statement from regional police said.
Scenes of armored police chasing rowdy football fans hurling flares and bottles have surfaced on social media. A cameraman from RT's Ruptly agency was also attacked by aggressive fans while filming a live feed from the streets of Lille, and an RT France live Facebook video was interrupted by a man who snatched the correspondent's phone and ran away with it.
The police response was prompted by a group of some two hundred England fans disturbing the peace by firing up flares and singing songs outside a local bar. A "detonation of an unknown origin" reportedly became the last straw, forcing police to intervene. In an attempt to break up the group, the police used batons and tear gas while chasing the fans down the streets, who in turn hurled bottles back at the officers.
Law enforcement reportedly took action to prevent potential skirmishes between French and English fans as thousands of the French team's supporters poured into the streets following a victorious game with Albania. The police tried to separate the rival groups, but several fights ensued nonetheless.
READ MORE on Wednesday clashes in Lille in RT's earlier report.
You can share this story on social media: