Lille mayhem: English fans throw change at kids in the street to watch them fight over it (VIDEO)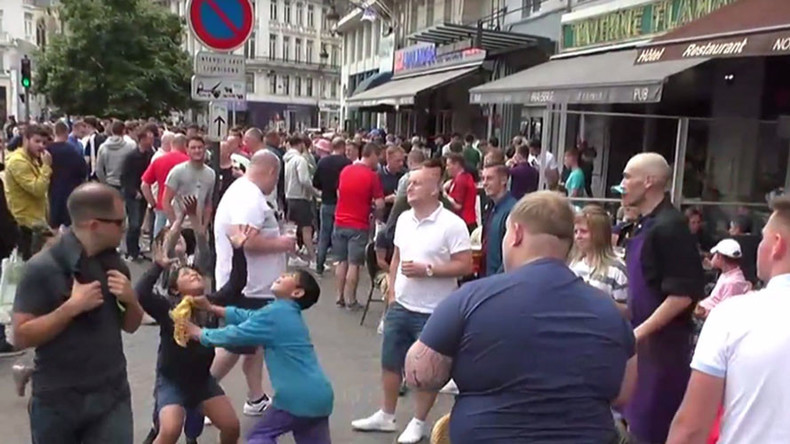 A video has emerged online showing a large group of English football fans in Lille pitching coins at four children seemingly begging for money so that they could watch them crawl in the street while fighting for the change.
Hundreds of England fans arrived in Lille to watch a match between their national team and Wales, which is scheduled to take place in nearby Lens on Thursday.

Some of the fans decided to spend their free time taunting children by throwing coins at them, an act captured on video and uploaded to Twitter and YouTube. The men are clearly enjoying themselves and can be heard laughing and egging each other on.
The four children, who look to be under age 10, are seen running their legs off in an effort to seek out and pick up every one of the coins cast at them by the generous "gentlemen."

Another video, uploaded to RT's Ruptly agency, shows a woman approaching the fans and berating them for their "kind-heartedness." She is then seen trying to talk to the kids and explain something to them.

Some accounts say the youngsters may have been Syrian refugees, since Lille has a high concentration of asylum-seekers, while others suggestions that the boys were of Roma descent, or French Arabs. None of conflicting stories could be immediately confirmed.
The Euro 2016 football championship is taking place at venues in 10 French cities from June 10 to July 10, and has attracted tens of thousands of football lovers from all over the world.

The incident is just the latest in a series of scandalous episodes involving fans that have cast a shadow over the beginning of the championship.
You can share this story on social media: