French authorities to deport 20 Russian football fans after Euro 2016 brawls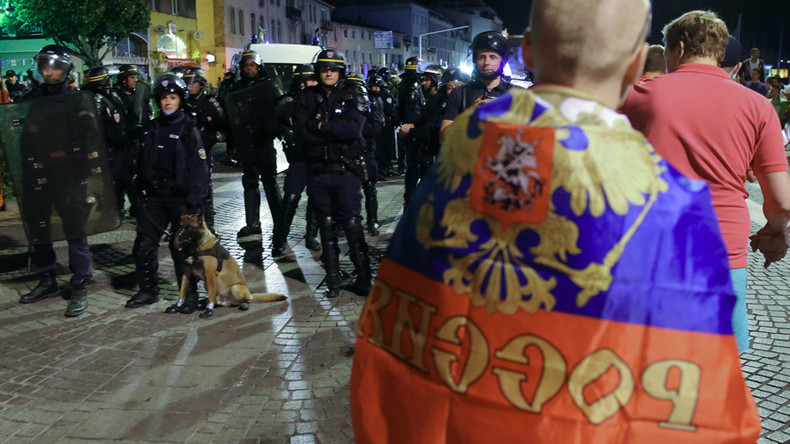 Twenty Russian football fans will be deported from France, while another nine have been released from police custody, Consul General of Russia in Marseille told TASS.
Alexander Shprygin, one of the leaders of the Russian football fans, is among the 20 Russian nationals to be deported back to Russia in the wake of violent Euro 2016 clashes in Marseille, the R-Sport agency reported.
The decision was taken due to security concerns, as the authorities see the detained fans' presence in the country as a "potential threat," the agency said. "No other reasons have been named," it added.
A bus carrying a contingent of Russian fans, including Shprygin, was reportedly pulled over by French authorities en route from Marseille to Lille on June 14. The passengers were detained by French police and held in custody for over 24 hours.
Twenty people were subsequently released and another 20 were sent to the deportation center from where they will be expelled within 5 days.
"French authorities have taken a decision to deport 20 Russian fans, another 3 are awaiting the court's decision," Consul Sergey Molchanov told TASS news agency. "Another nine fans have been released in addition to 11 [fans] released from custody earlier today."
READ MORE: Police use tear gas to disperse England football fans in Lille, France

Meanwhile, AFP news agency reported that about six Russian Euro 2016 fans that had been involved in serious violence in Marseille on Saturday were arrested.
French authorities have also reportedly said that three Russians and a Ukrainian are subject to a deportation order, with the news agency stressing that they will have to leave the country immediately unless French courts open a case against them.
You can share this story on social media: