Goodbye TV, hello smartphone: Young Americans going mobile for news
Published time: 28 Sep, 2012 18:37
Edited time: 28 Sep, 2012 23:36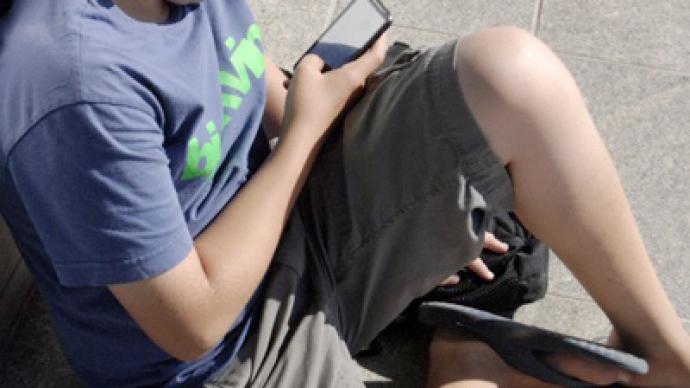 The days of catching up on the news with a morning paper or breakfast show may be slowly drifting away. According to a new survey, Internet and mobile platforms seem to be leaving traditional news outlets in the dust.
­America's transforming news landscape has already left a sizable dent in the country's newspapers – but the nation's television news outlets may be under threat too, according to a news consumption poll conducted by the Pew Research Center.
Until now, TV news viewership has remained stable in the US – but the survey's findings show that the television news industry may have a reason to worry.  
While adults over 30 watch the same amount of TV news they always did, younger generations are trading the tube for smartphones and tablets. In fact, the number of 18-29 year-olds watching local news has fallen from 42 per cent in 2006 to 28 per cent today.
But it's not just local news that's hurting. CNN's audience has taken an 8 per cent viewership hit over the past four years.
The main culprits behind the declining popularity of newspapers and TV news are social networks and mobile devices.
Nineteen per cent of Americans surveyed said they saw news on networking sites the previous day – up nine per cent from two years ago.
Additionally, nearly one in five Americans (17 per cent) said they got news on a mobile device the day before, with the majority of those people getting news on their cell phone.
The pure convenience factor is the largest reason why Americans are choosing mobile and digital devices as their news sources.
Fifty-seven per cent of those surveyed described themselves as a person who checks in on news from time to time, instead of waiting to receive information at regular intervals.
But it's not just the traditional news landscape that's shifting – the world of online news is changing, too.
Mobile devices and social networking sites have replaced search engines as the driver of growth of finding news online. Search engines continue to be the largest single tool in finding news on the Internet, but the substantial growth seen between 2008 and 2010 has leveled off.
However, digital platforms aren't providers of news for everyone. In fact, twenty-nine per cent of people under the age of 25 said they went newsless on a typical day – creating another kind of worry for America's media corporations.