PETA launches XXX site
Animal rights' advocacy group PETA are undertaking a new endeavor and in doing so finally combine America's two biggest passions: cute, cuddly animals and online pornography.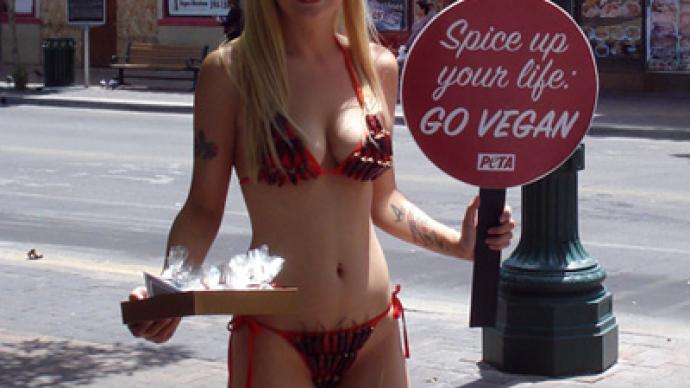 At least that's how they are branding it.The People for the Ethical Treatment of Animals has taken advantage of the recently-made available .XXX domain name extension and have launched an all new website advertised as PETA's foray into Internet porn.Peta.XXX looks like any other smut site upon first glance and even includes spots with noted adult entertainment performers Sasha Grey and Ron Jeremy. Once a user navigates away from the homepage, however, PETA.xxx is quickly revealed to be just an oh-so-clever attempt at raising awareness of animal rights.Spoiler alert: the video of feisty chicks embedded on PETA's "hardcore video" page resembles material more fit for a snuff film than a Sasha Grey sexcapade. Jeremy, who has also involved himself in endeavors not just limited to XXX releases, says on the site that "this is the perfect example of sex just being used to draw interest, and then once you're there on the site, we're going to hit you with facts that you need to know about the world of animals."And to do that, PETA.xxx hosts a slew of images of scantily clad models advertising pro-vegan slogans and asking website visitors to stop wearing fur."We know that there's more to life than sex and that you have multiple interests. Now it's time to see a few PETA videos considered so 'hardcore' and so 'offensive' that no TV stations have dared to run them," reads a statement on the page that lures viewers in with what looks to be a promise of pornographic footage. What they are offered instead, though, is an 11-minute long expose entitled 'Meet Your Meat' that is narrated by none other than actor Alex Baldwin.Curious computer users be aware, though: 'Meet Your Meat' is not (we repeat, NOT) the same film as the 1997 Totally Right Video production, 'Balls to the Wall 33: Hungry For Meat.' We checked.Peta.XXX also includes animals' rights video testimonies from adult film actress Jenna Jameson, a page of sex advice that emphasize the powers of America's most sensual legume (the soybean…duh) and, if you look hard enough, yes, there are even some cute, cuddly kittens. Nowhere, however, will you find any full-frontal nudity.
You can share this story on social media: