Bree Olsen's Boob Bus brings breast exams (and porn stars) to NYC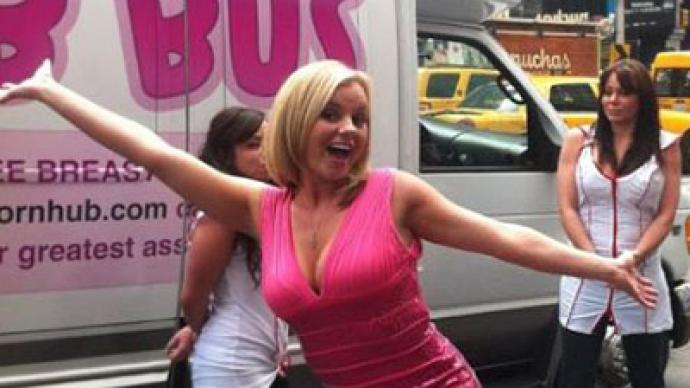 Some say they peddle perverse smut and act as the catalyst behind the crumbling of American culture. In New York City, though, the adult entertainment industry took on the new role of health education instructor.
One of America's top providers of streaming adult content and one of the biggest names in the business teamed up this week to raise awareness about breast cancer and they took that mission all the way to the streets of Manhattan. Riding across the Big Apple in a vehicle dubbed the Boob Bus by Pornhub.com, adult film star Bree Olsen and a team of medical professionals offered free breast exams to women for a few hours on Tuesday.
"Porn hub came to me with this idea to do breast cancer awareness," Olson tells Fox News. "They figured, you know, breasts are a large part of our industry, and the two would kind of coincide."    
She does have a point.
Starting at 10 a.m. on Tuesday, Bree and her boobs — er —Bree and her bus — circled the streets of New York, stopping at landmarks including Central Park, Times Square and Grand Central Terminal to offer hands-on examinations for women across Manhattan. Dr. David Shafer of the American Board of Plastic Surgery was on board to lecture customers on how to conduct examinations of their own and offered his own screening services free of charge.
Given that Porn hub offers streaming adult video clips free of charge, it seems only fitting that it would offer up health services for the same cost. Web statistics generator Alexa.com ranks Porn hub to be within the most 100 popular sites in the world and places it close to the top 50 in the US alone. Bringing one of America's most recognized purveyors of porn to one of the most populated places in the country for the sake of saving lives makes a lot of sense. It's a move that is bound to attract criticism, but where is the real wrongdoing?
"With a 1 in 8 chance of developing breast cancer in their lifetime, it's an important issue for all women," Dr. Shafer explains.
"Nothing like this had been done before, and I think it's really great of Porn hub to come together and say, 'Let's do this, let's take this bus to women and raise awareness," adds Olsen, who has also advocated for animals' rights on behalf of the activism group PETA.
Cancer awareness? Free health exams? Saving chickens? And to think: Rick Santorum said that "America is suffering a pandemic of harm from pornography."