Oil spill clean-up closes off vital Texas channel for second day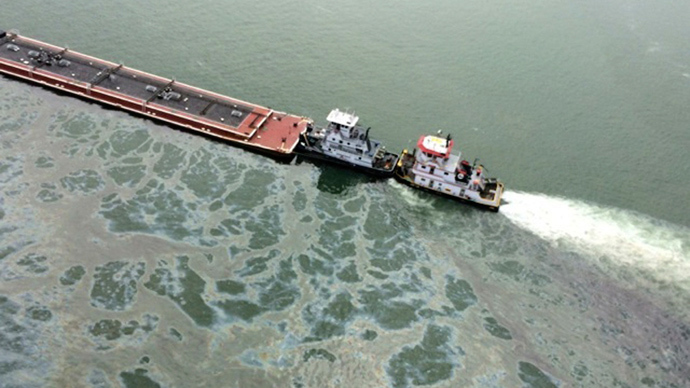 A massive oil spill clean-up operation shut down the Houston Ship Channel for the second day on Sunday, blocking dozens of ships. An oil barge with a 900,000-gallon tank collided with a ship on Saturday and spilled up to 168,000 gallons.
Clean-up efforts managed on Sunday to transfer all the oil from the barge and are moving it out of the Houston Ship Channel.
"This is an extremely serious spill," Coast Guard Captain Brian Penoyer said during a press conference late on Saturday. "This is a persistent oil. It's a large quantity. It will spread. People should be aware of that."
Authorities have closed the channel in order to contain environmental damage and avoid any additional collisions, the Coast Guard said. The decision has blocked the movements of more than 60 vessels between the Gulf and Galveston Bay, among which are three cruise ships.
Officials did not say when the channel will be fully reopened, adding that they have a plan to let the cruise ships through one by one.
Oil residue was seen 19 kilometers into the Gulf of Mexico, Penoyer said at a news conference, according to AP. There were also reports that some wildlife was affected by the accident, though no specifics have been revealed by officials. Environmental experts warned of shorebird habitat on both sides of the channel. "The timing really couldn't be much worse since we're approaching the peak shorebird migration season," conservation director of the Houston Audubon Society, Richard Gibbons, said.
Officials believe that only one of the tanks on the barge has been breached. Authorities have planned to carry out an assessment of the damage to wildlife later on Sunday.
The Coast Guard added that Kirby Inland Marine, the company that owns the barge, is working on clean-up efforts along with Texas General Land Office and other organizations.
Texas General Land Office spokesman Jim Suydam told AP that the spilled oil is "sticky, gooey, thick, tarry stuff."
"That stuff is terrible to have to clean up," he added.
You can share this story on social media: