US railroad oil spills in 2013 surpassed previous four decades combined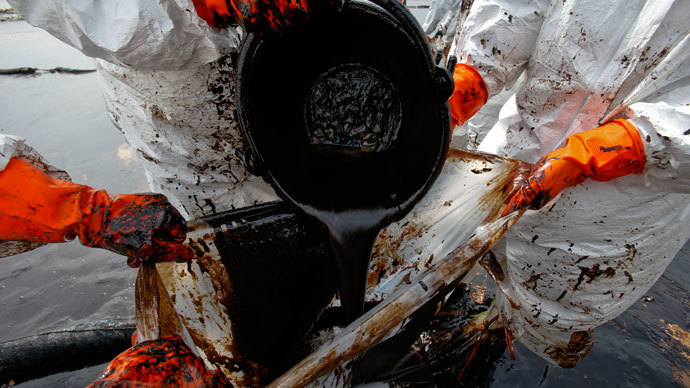 Newly unveiled federal data indicates that more crude oil was spilled in US railway incidents in 2013 than in the prior 37 years combined, inspiring lawmakers to push for new safety standards that could avoid similarly devastating incidents in the future.
Altogether, 800,000 gallons spilled from US railroads in the years from 1975 to 2010. That data, which comes from the Pipeline and Hazardous Material Safety Administration, does not include records of Canadian spills, some of which are thought to surpass one million gallons spilled on their own.
In part because of major derailments in Alabama and North Dakota, over 1.15 million gallons of crude oil seeped from train cars.
North Dakota crude, the type of oil examined in the government research, tends to have very low density, which means it is made of more volatile compounds that could increase its flammability and make the crude more difficult to clean up.
A single rail car contains approximately 28,800 gallons of oil. According to McClatchy newspapers, 400,000 carloads – over 11.5 billion gallons – were shipped across the continent in 2013. That is an astounding success rate of 99.99 percent, although the spills that did occur were problematic enough to make international headlines.
Nearly 30 cars of a 90-car train derailed in early November in rural Alabama. No one was killed in the accident, but approximately 12 of the cars burst into flames so hot that firefighters had no choice but to let the fire subside on its own. Almost 750,000 gallons spilled into the Alabama wetlands and drained into small tributaries that empty into the Tombigbee River.
The situation was almost as severe near Casselton, North Dakota on December 30. The National Transportation Safety Board told McClatchy that it is not done investigating the incident, but estimates that at least 400,000 gallons of crude oil were spilled in a derailment. The spill forced 2,400 people to evacuate their homes in subzero temperatures.
The data does not account for Canadian accidents, including the catastrophic spill in Lac-Megantic, Quebec. On July 6, a runaway train from North Dakota derailed and exploded, killing 47 people and devastating the small Quebec town.
Responding to the string of incidents, North Dakota Gov. Jack Dalrymple said Tuesday that new railway safety standards are necessary and that federal officials have been too slow to introduce standards that could curb tragic derailments like the one in Casselton.
"Anyone who saw the video of that crash saw the fire that came out and the explosion. That visual picture leaves an impression on anybody, including oil producers," he told Reuters. "We do need some kind of provisional standard for the next year."
You can share this story on social media: