Exxon oil spill town 'deserted land', residents still getting sick, forced to abandon homes
Almost one year after ExxonMobil's pipeline burst and caused a major oil spill near Mayflower, Arkansas, officials say the area is safe to live in. But locals are still suffering from dizziness, headaches, and nausea – prompting many to move away.
On March 29, 2013, Exxon's Pegasus pipeline spilled thousands of barrels of Canadian crude oil in a suburban area near the town of Mayflower, sparking strong opposition to oil sands exploitation and the Keystone XL project. If approved, the Keystone pipeline would carry tar sand oil from Alberta, Canada through the US to Texas refineries.
More than 10 months after the Pegasus rupture – which resulted in the evacuation of over 20 homes – residents are complaining about health problems. Many are keen to leave the town entirely.
Before the spill, the small town was a peaceful place for families. Many didn't even know there was a pipeline running underneath their houses. Following the spill, many residents have moved to other locations. 'For Sale' signs can currently be seen throughout the area, RT's Gayane Chichakyan reported from Mayflower.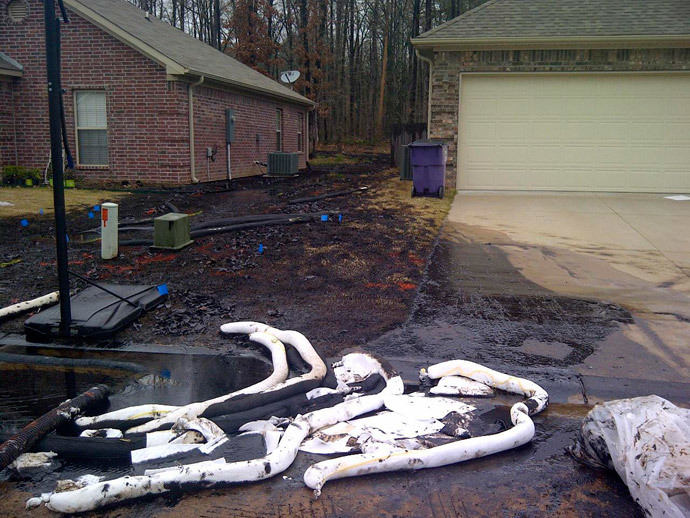 Former Mayflower resident Ann Jarrell said she "tried to stay here for as much as I could," but every time it rained, oil vapor would return. Like many other locals, she started having constant headaches and coughing after the spill, she said.
"I have friends who still live here. They don't have a place to go. They have small children… and they're all sick," she told RT.
Exxon told RT that a Unified Command – comprised of Exxon representatives and officials from state and federal environmental services – has deemed that all areas affected by the spill are now safe to live in.
"We are continuing to monitor the cove area adjacent to Lake Conway. All other cleanup and response efforts were approved and deemed complete by the Unified Command in late 2013," Exxon wrote in an e-mail to RT. "The Unified Command was comprised of US EPA, ADEQ, Faulkner County, and ExxonMobil representatives. All areas in Mayflower Northwoods subdivision have been cleared for re-entry or deemed with no restrictions for re-occupancy by the Unified Command."
However, many of the residents don't buy it. And their homes aren't selling.
"I would say the number of homes sold in Mayflower has dropped by at least 50 to 60 percent," real estate agent Richard Henley said.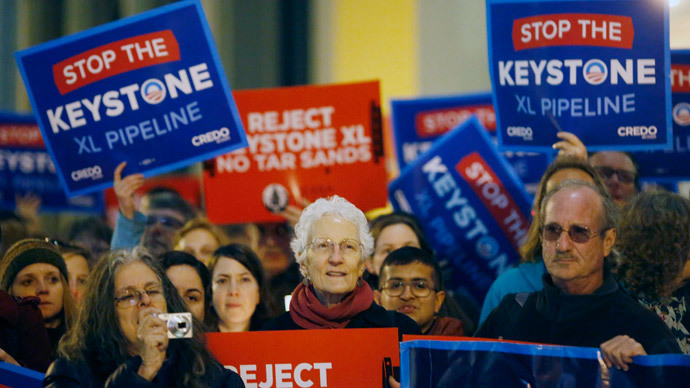 Meanwhile, the 2013 Mayflower oil spill is only a fraction of annual pipeline leaks. It is estimated that between 2008 and 2012, US pipelines spilled an average of more than 3.1 million gallons of hazardous liquids per year, according the Pipeline & Hazardous Materials Safety Administration.
Plans for the Keystone XL pipeline have caused many to worry that they – like the residents of Mayflower – may become collateral damage of the big oil companies.
"There are a lot of us who have been forgotten. We're just collateral damage," Ann Jarrell said.
Last week, an alliance of Native American communities promised to block construction of the northern leg of the Keystone pipeline, which has yet to be approved by President Obama.
The project has seen strong opposition in the US, with many believing the carbon-intensive impact that results from the extraction of tar sands will worsen the effects of climate change. They also fear the pipeline will put nearby communities at risk of oil spills and their subsequent fallout.
Adding up concerns over the planned pipeline, a new study said that production of crude oil in western Canada emits more harmful carcinogens into the environment than official estimates let on. The report by the University of Toronto-Scarborough published earlier in February said that Canadian officials may have underestimated emissions of polycyclic aromatic hydrocarbons (PAHs) from Alberta tar sands, and they may pose a serious danger to humans and the ecosystem.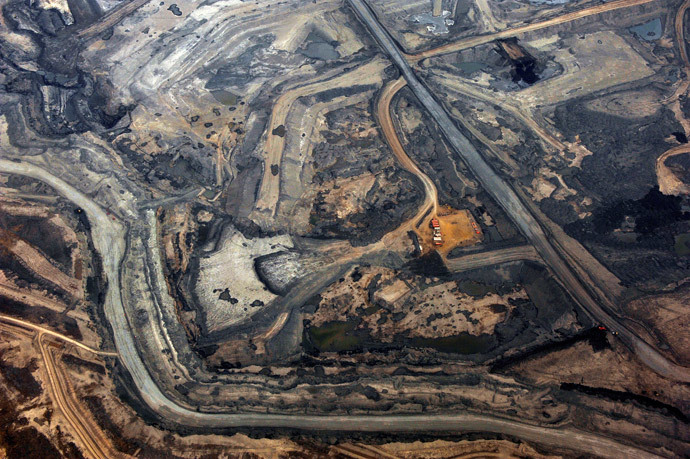 You can share this story on social media: