Obama defends NSA programs during rare White House press conference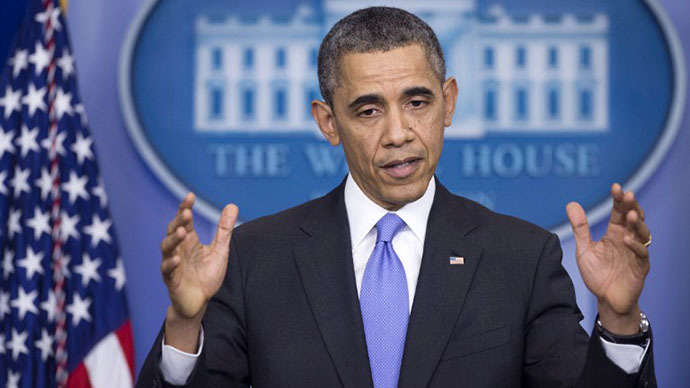 United States President Barack defended the surveillance tactics used by the National Security Agency during a rare press conference from the White House on Friday in which he denied allegations that the NSA has abused those programs.
Earlier this week an independent review panel selected by the president to audit the NSA's operations in the midst of a far-reaching surveillance scandal supplied the White House with a report containing 46 recommendations for the intelligence agency.
"Over the next several weeks I'm going to assess, based on conversations not just with the intelligence community but others in government and outside of government, how we might apply and incorporate their recommendations," Pres. Obama said Friday afternoon during his last scheduled press conference of 2013.
"I think they did an excellent job," he said of the five-person Review Group.
The president will wait until January to decide what suggestions, if any, the NSA should heed, however, but during his exchange with journalists on Friday he again dismissed accusations that the spy agency has unlawfully conducted surveillance operations.
Compelling telecommunication companies daily for the phone data pertaining to millions of Americans is not on par with "domestic surveillance," the president said, instead insisting that "having that data in one place and retained for a certain period of time" is a crucial counterterrorism tool. Among the recommendations made in the Review Group's 208-page report are relying on the telecoms or another third-party to hold into that data, which the president said on Friday "is possible."
"I think it's important to note that in all the reviews of this program that have been done, in fact, there have not been actual instances where it's been alleged that the NSA in some ways acted inappropriately in the use of this data," Obama continued. "But what is also clear is from the public debate, people are concerned about the prospect, the possibility of abuse."
On the contrary, though, a federal judge in Washington, DC wrote earlier this week that the dragnet collection of telephony metadata is likely unconstitutional and that the plaintiffs in a lawsuit filed against the Obama administration can have an injunction protecting themselves from having their own phone records collected by the NSA. And despite the president's claim, in another instance the Foreign Intelligence Surveillance Court — the body that approves these programs — accused the NSA of having NSA "frequently and systematically violated" its own oversight requirements,
Should the White House agree to reform that and other practices, the president said the intelligence community would be without a tool that's been hailed by proponents of the agency's operations as critical for national security.
"The question we're going to have to ask is can we accomplish the same goals that this program is intended to accomplish in ways that give the public more confidence that in fact the NSA is doing what it's supposed to be doing," Obama said. "I have confidence in the fact that the NSA is not engaging in domestic surveillance or snooping around, but I also recognize that as technologies change and people can start running algorithms and programs that map out all the information that we're downloading on a daily basis into our telephones and our computers that we may have to refine this further to give people more confidence. And I'm going to be working very hard on doing that."
Fox reporter Ed Henry was quick to follow up the president's remark by reminding the commander-in-chief that just six months earlier he said his administration struck "the right balance" between security and privacy concerns with regards to the NSA's operations.
"You can complain about Big Brother and how this is a potential program run amok, but when you actually look at the details, then I think we've struck the right balance," Henry quoted from a statement made by the president on June 7 — two days after the media began to report on the NSA's metadata collection program due to leaked documents disclosed by former intelligence contractor Edward Snowden.
"That was only six months ago," Henry said. "Now, there's judges are saying no; your own panel is saying no; even you're saying no, we haven't really struck the right balance, perhaps, that changes have to be made."
"My question is, were you wrong then because you were not fully read in, not just on these programs, but on other programs, outside of the ones you just talked about, where we were potentially listening in on the German leaders, the Brazilian leaders and others, that suggest there were abuses, number one?" he asked. "On surveillance, you looked the American people in the eye six months ago and said, we've got the right balance. And six months later, you're saying, maybe not."
"What is absolutely clear to me," the president responded, "is that given the public debate that's taken place and the disclosures that have taken place over the last several months that this is only going to work if the American people have confidence and trust."
That confidence could come through way of reform, the president suggested, which some say would not have been possible without Snowden sharing those files with the media.
"Obama says there was a better way to have conducted NSA debate; which is why he never initiated such a debate or revealed spying programs," journalist Murtaza Hussain tweeted on Friday.
"Not much evidence he/others would have done so were it not for leaks," Washington Post reporter Greg Miller added on the topic.
Obama says there was a better way to have conducted NSA debate; which is why he never initiated such a debate or revealed spying programs.

— Murtaza Hussain (@MazMHussain) December 20, 2013
On Snowden, Obama says there was better way to debate surveillance. Not much evidence he/others would have done so were it not for leaks.

— Greg Miller (@gregpmiller) December 20, 2013
And as for that debate, one of the members of the president's review board told NBC News this week that the panel discovered zero instances in which the NSA's metadata collection program stopped an attempted act of terrorism.
Meanwhile, Obama shrugged off a question during Friday's presser in which he was asked if he'd consider providing amnesty to Snowden, as others have recently suggested.
"The fact of the matter is that the United States, for all our warts, is a country that abides by rule of law, that cares deeply about privacy, that cares about civil liberties, that cares about our Constitution," the president said. "So I think that, as important and as necessary as this debate has been, it is also important to keep in mind that this has done unnecessary damage to US intelligence capabilities and US diplomacy. But I will leave it up to the courts and the attorney general to weigh in publicly on the specifics of Mr. Snowden's case."
You can share this story on social media: