Hunger games: Critical health fears as Gitmo strike marks Day 100
Five critical, 30 force-fed, 102 to 130 taking part – data that makes for grim reading as the Guantanamo hunger strike enters its 100th day. More information on their ill health has been made public as detainees' lawyers speak out.
Lawyers of the Guantanamo Bay prison detainees have been increasingly worried that the inmates condition, particularly overwhelming weight loss, is life threatening. This concern comes as the longest hunger strike in the prison's history has long exceeded the point of what experts describe as irreversible health risks – and coincides with reports of prison authorities allegedly hampering the inmates' communication with their attorneys.
Follow RT's day-by-day timeline of the Gitmo hunger strike.

Three days without food is the time needed for a human body to start consuming fat and muscle protein, losing its mass, according to a study on mass hunger strikes published by the California Correctional Health Care Services.
Those not eating for two weeks are often so weak they cannot stand or walk, and their heart rate drops, states the document. After three weeks of hunger the lack of vitamins in one's body poses a serious risk of cognitive impairment, vision loss and motor skills damage- impairing their mobility and ability to process simple bodily functions.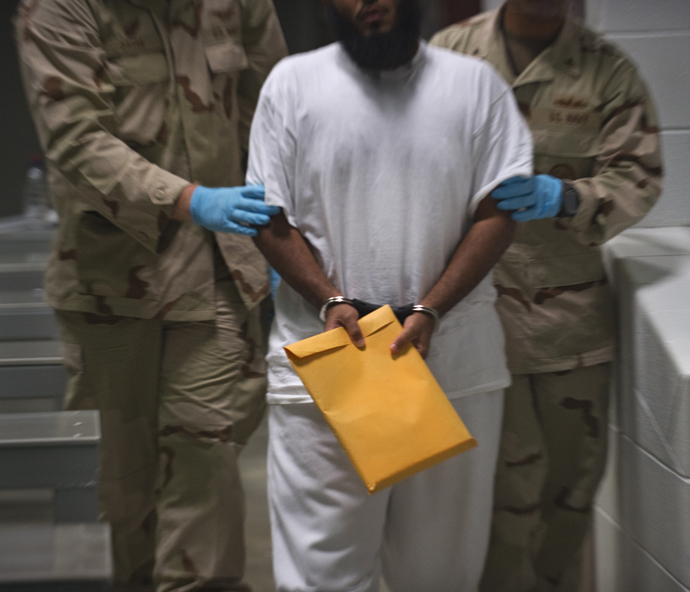 Some Guantanamo prison inmates have been on hunger strike for over 14 weeks.
Studies of the 1981 Irish hunger strike showed that most people couldn't survive after losing more than 40 per cent of their body weight. Attorneys representing the Guantanamo inmates say a large fraction of the current hunger strikers have already lost about a third of their body weight.
There has been little official word on the reports of a rapidly deteriorating condition of some of the inmates, other than statements of the military downplaying and directly refuting such reports.
"The reports of hunger-strike related to deteriorating health and detainees losing massive amounts of weight are simply untrue," Guantanamo spokesperson Navy Capt. Robert Durand said in a letter to RT more than a month after the strike is believed to have started.
The International Committee of the Red Cross has been visiting Guantanamo and taking notes on "more than 100 contexts" on the conditions of detention and the treatment of detainees, according to a statement on the ICRC website.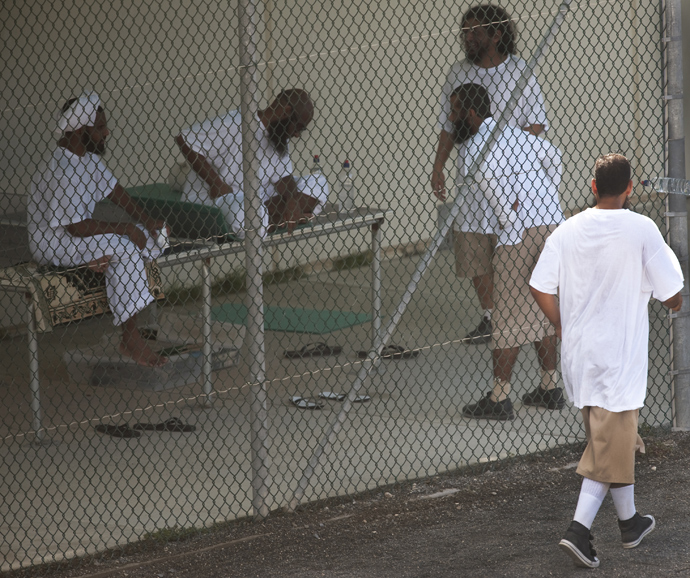 But the ICRC policy says the organization does not make any public comments, discussing concerns only "directly and confidentially with the authorities in charge."
In fact, the only detailed accounts on what the hunger strikers look like and how they feel after more than three months of refusing food come from the inmates attorneys and the rare statements from prisoners that they quote and deliver.
Lawyer and US army captain Jason Wright has described his client, 32-year-old Afghan Obaidullah, as a 115-pound (50-kilogram) "bag of bones" and "extremely distressing." 
"I have pain in waist, dizziness. I cannot sleep well. I fell [sic] hopeless. I cannot exercise. My muscle become weaker in the last 50 days. I have thrown up five times," Obaidullah himself wrote as quoted by the Independent.
The defense lawyers have repeatedly tried to "engage in constructive dialogue" concerning the detainees' condition and release, but all such attempts "have been met with resistance and silence," Wright told the media. His client Obaidullah, like many Gitmo detainees, has never been charged despite 11 years of imprisonment.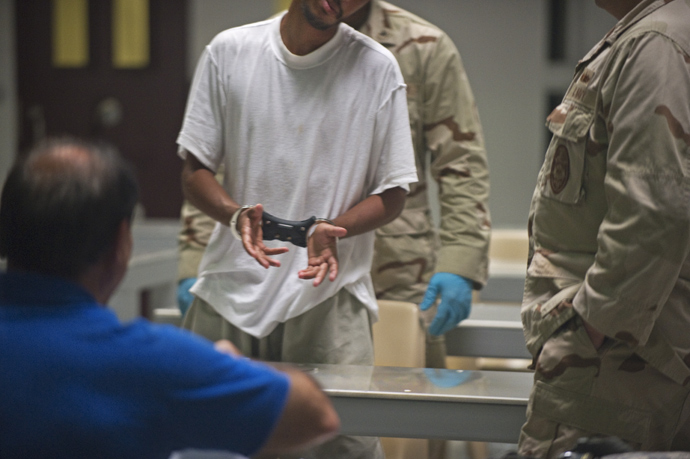 Long-time Guantanamo detainee and veteran hunger striker Shaker Aamer joined the current hunger strike on February 15. Aamer's lawyer Clive Stafford Smith, has voiced fears that his client may be seriously ill, having long passed beyond the point of "irreversible cognitive impairment" risk.
Stafford Smith, who said he was unable to contact his client since the end of April, has recently reported that the detainees are being threatened with humiliating body searches if they seek to contact legal counsel, in a letter sent to UK Foreign Secretary William Hague.
A legal British resident and citizen of Saudi Arabia, Aamer has been held without charges for more than 11 years, despite having been cleared for release in 2007 along with the 86 other detainees.
Some 10 years ago, Aamer listed arthritis, kidney problems, hearing problems, deteriorating eyesight, hair loss and "aching heart" among the things troubling him. In 2012 he pleaded, "torture me in the old way," saying here in Guantanamo they "destroy people mentally and physically without leaving marks," but not letting them "die in peace."
The US Department of Defense has said the military will not let Guantanamo prisoners "commit suicide by starving themselves to death," and those showing signs of life-threatening conditions have been forcibly fed by means of enteral tubes, including Aamer.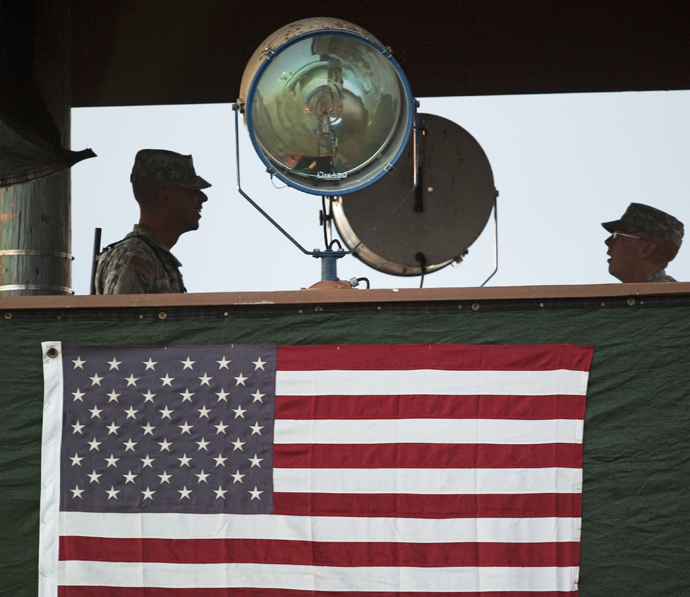 But apart from the pain and discomfort the detainees have described in detail, the enteral feeding has another side-effect – the return of the persistent feeling of hunger, which disappears after the first days of fasting.
Now the hunger striker Aamer says he "barely notice[s]" his medical ailments, with all the beating and asthma effects fading in the face of "24/7 ache of hunger." 
"Really, now it is just pain everywhere. I don't want to die in Guantanamo," another defendant of Stafford Smith, Younus Chekkouri, told the attorney over the phone. As of April, the Moroccan national had reportedly lost around 30 pounds (13.6 kilograms) of body weight and was surviving on Metamucil.
Depression and suicidal thoughts are some of the other problems his clients experience, according to the lawyer. But the mental trauma has remained even with those who have been released.
A 43-year-old British resident Omar Deghayes, who was released from Guantanamo without charge in 2007, still recalls the effect of two shorter hunger strikes he has been through.
"You start to hallucinate. When people talk to you, you can't understand them. I started to hear voices. Then I started to vomit blood and puss. Your stomach contracts and when they force-feed large quantities, you can't control anything, you get diarrhea in your trousers. They take you into the yard and hose you down," Deghayes told the Independent.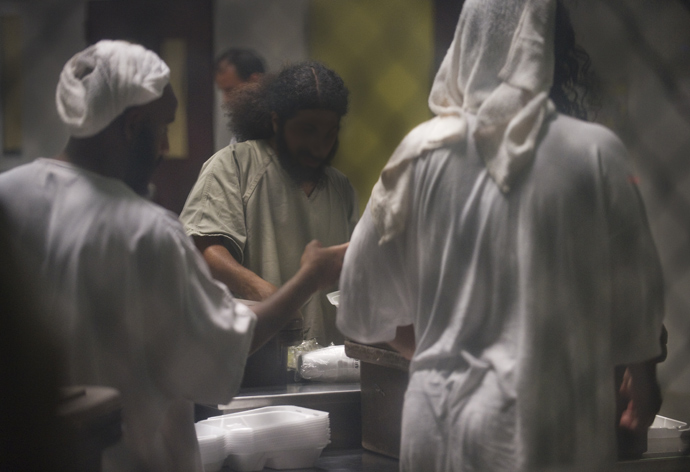 A recent report revealed that the assessment of hunger strikers condition and the final decision of who will undergo the painful procedure of force-feeding, have been dependent on the approval of the commander of Guantanamo rather than the opinion of view of prison medics.
While international rights groups have long been calling to stop this extremely invasive and highly controversial practice, with the UN condemning it as "torture," the US responded to the current hunger strike by sending 40 nurses to assist with force-feeding.
"I can't imagine they understood what they are being asked to do for their country. I don't think they knew how horrific it would be. I hope some of them have the courage to say no," attorney Wright, who traveled on the same plane as the nurses, has said.
Meanwhile, many of the detainees have been ready to die for their dignity, as they have no hope for release, Wright told RT.
"I scare myself when I look in the mirror. Let them kill us as we have nothing to lose. We died when Obama indefinitely detained us.  Respect us or kill us. It is your choice. The US must take off its mask and kill us," a desperate statement by Wright's Kuwaiti client Faiz al-Kandari said as quoted by the lawyer.
"The only way this changes is if the world pressures the United States, internally as well. We need the citizens of the United States to stand up and demand that President Obama follow through with his promise… to close the Guantanamo," Wright urged.

You can share this story on social media: