'Stand your ground' may apply in shooting death of Georgia man with Alzheimer's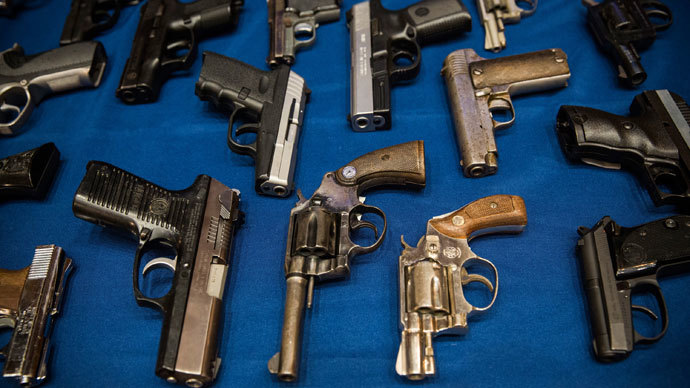 Mistaken for a prowler, an elderly man with Alzheimer's was shot early Wednesday in rural Walker County, Georgia after approaching a house miles from his own. Authorities says the state's "stand your ground" law may apply.
An investigation continues into the death of Ronald Westbrook, 72, who was shot in rural, northern Georgia's Lookout Mountain region by Joe Hendrix, 34, around 4 am (EST) Wednesday. Westbrook was likely lost and confused when he rang Hendrix's doorbell and pulled on the house's doorknob in Chickamauga, said Walker County Sheriff Steve Wilson.

As his fiancee called 911, authorities say Hendrix ran outside with a handgun to check his backyard upon hearing someone outside his home. Hendrix told investigators he called at someone he saw in silhouette who did not answer. When the person, Westbrook, walked toward Hendrix, he fired his gun four times, once fatally.

"In my personal opinion, I believe that [Hendrix] should have stayed inside the house," Walker County Sheriff Steve Wilson told the Times Free Press of Chattanooga, Tenn. "Did he violate any laws by exiting the house? No."

Wilson said Wednesday it is up to the district attorney's office to determine whether Georgia's "stand your ground" law will apply in the case.

The state's 2006 law states that a person "has no duty to retreat" and has the right to "stand his or her ground," including the use of deadly force pertaining to self-defense of one's home or property.

The law is modeled after a similar measure in Florida, which came under national scrutiny following the shooting death of Miami-area teenager Trayvon Martin by community watch volunteer George Zimmerman, whose defense used part of the law to claim he shot to protect himself.

"I'm certain the district attorney will certainly take that code section, that law into consideration while he's reviewing the case," said Wilson.

Critics say such laws make it difficult for prosecutors to charge those claiming self-defense under precarious circumstances. Zimmerman was acquitted of second-degree murder in July as the case also magnified the role race might play into such self-defense laws.

Over 20 states have adopted similar measures after Florida passed its own trailblazing law in 2005, which was heavily lobbied for by the National Rifle Association and used as a model for other states by the American Legislative Exchange Counsel (ALEC).

The state has not filed charges against Hendrix, who admitted to the shooting, thus far. Wilson stressed the investigation is ongoing.

"We feel like at this point that we should proceed cautiously and with an open mind and let the evidence and the law take its place," said Wilson.

Wilson said the case was difficult since he knew Hendrix personally.

"He's a good man. I've known him. We attend church together. We go to the same church. Just a fine man. A fine family," Wilson said, WRCB reported.

"There's no doubt in our mind that Mr. Hendrix and his fiance felt threatened."

According to police, Westbrook, who his family says had been suffering from Alzheimer's disease for two years, had been walking in the near-20 degree weather for four hours with his dog, wearing only a light coat and a straw hat, before approaching Hendrix's home, possibly drawn by the house's porch light. Westbrook was clutching a piece of mail when he was found by police.

Wilson said Westbrook's wife didn't realize he was gone until after the shooting occurred.

"They just did not know that he had walked away until about the time it happened. And it was just too late at that point. About the time she discovered he was gone, the shooting had already happened."

The sheriff added that the 911 recording makes clear the dispatcher was not aware Hendrix had left the house. WRCB reported it has made a request for the recording.

"Mr. Hendrix is clearly saddened and heartbroken," Sheriff Wilson said, according to the Christian Science Monitor. "Mr. Hendrix has to live with his actions for the rest of his life."

Earlier this month, the civil rights leader Jesse Jackson's Rainbow PUSH coalition filed a lawsuit against Georgia for what it alleges are uneven interpretations of the "stand your ground'"law.

This week, Florida woman Marissa Alexander, previously sentenced to 20 years in prison for firing a "warning shot" during an altercation with her husband, was released as she waited for a new trial after an appeals court found that the judge presiding over her case did not properly inform the jury what her defense was.

In 2012, Alexander was convicted on three counts of aggravated assault with a gun, which required a mandatory minimum sentence of two decades.

Before her conviction, Alexander argued that she fired the gun in self-defense and attempted to invoke Florida's "stand your ground" clause. Alexander had an active restraining order against her husband, Rico Gray, who had also previously been convicted of domestic violence against her. She claimed Gray was physically and emotionally abusing her before she fired the gun.

The "stand your ground" argument was thrown out by the judge, however, because Alexander left the house to collect her firearm. Prosecutors, meanwhile, claimed that the alleged warning shot threatened Gray's life since it flew past his head and into a nearby wall.

You can share this story on social media: