Woman sentenced to 20 years for firing 'warning shot' released in Florida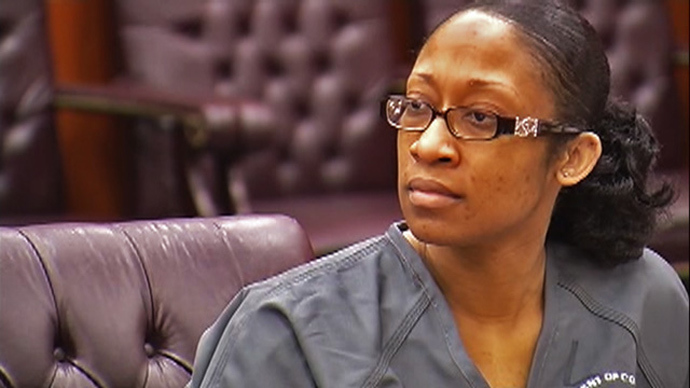 A Florida woman sentenced to 20 years in prison for firing a "warning shot" during an altercation with her husband has been released as she waits for a new trial.
In 2012, Marissa Alexander was convicted on three counts of aggravated assault with a gun, which required a mandatory minimum sentence of two decades. She was released on Wednesday after posting a $200,009 bond.
Alexander was awarded a new trial after an appeals court found that the judge presiding over her case did not properly inform the jury what her defense was, according to Reuters.
"Words cannot express the relief and joy of everyone in the Free Marissa Now Mobilization Campaign that Marissa Alexander is home with her family this Thanksgiving Day," the campaign said in a statement to WTLV News.
"We are thrilled that Ms. Alexander will be able to prepare for her new trial amid the support and love of her children and family from whom she has been separated far too long."
Before her conviction, Alexander argued that she fired the gun in self-defense and attempted to invoke Florida's controversial "Stand Your Ground" clause, which permits individuals to use deadly force in order to protect themselves. Alexander had an active restraining order against her husband, Rico Gray, who had also previously been convicted of domestic violence against her. She claimed Gray was physically and emotionally abusing her before she fired the gun.
The "Stand Your Ground" argument was thrown out by the judge, however, because Alexander left the house to collect her firearm. Prosecutors, meanwhile, claimed that the alleged warning shot threatened Gray's life since it flew past his head and into a nearby wall.
Supporters of Alexander criticized the 20-year sentence when it was handed out, but the case received new attention when George Zimmerman was acquitted of murder and manslaughter after shooting and killing Trayvon Martin. Zimmerman argued his actions were predicated on self-defense, and his case drew unfavorable comparisons to Alexander's.
Angie Nixon of the social justice group Florida New Majority also praised Alexander's release to Reuters.
"This news is vindication for Marissa and all the women who have become criminalized for exercising their basic right to defend themselves and their children," she said.
You can share this story on social media: