Florida executes inmate with controversial lethal injection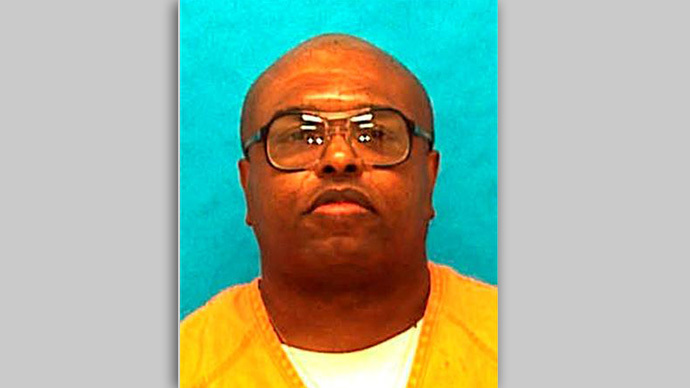 Two convicted murderers were executed by Florida and Texas on Tuesday, one of whom was killed using a controversial drug that some claim leaves the recipient in excruciating pain.
The 40-year-old Darius Kimbrough – convicted of sexually assaulting and killing a Florida woman named Denise Collins in 1991– was executed and pronounced dead at 6:18 p.m. EST, roughly 18 minutes after his lethal injection was administered. In Texas, Jamie McCoskey, 49, was also killed via lethal injection. He was convicted of kidnapping a couple in Houston, raping the woman and stabbing her fiancé to death in 1991.
Kimbrough's execution in Florida was notable because it was the second time the state had used the drug midazolam as a sedative in the first of a three-stage lethal injection procedure. Paralytics are typically administered in the second stage, while the third drug stops the heart.
As Reuters reports, midazolam has come under fire from prisoners, who challenged the use of the drug in a lawsuit. Seven of Florida's death row inmates sued the state, arguing the drug – typically used as a sedative in minor operations – is not actually an anesthetic. They claimed that in addition to halting the body's ability to speak or move, midazolam leaves inmates aware of their surroundings and in severe pain as they die.
A judge dismissed the suit last week due to legal technicalities, but has given the inmates 60 days to file new complaints. According to a local NBC 6 Miami report, Kimbrough's execution was not affected by the ruling because he was not a party to the suit.
Kimbrough did appeal to the Florida and U.S. Supreme Courts, disputing the DNA evidence presented in his case and questioning the new drug the state was using, but both courts rejected his plea.
As for midazolam, Florida first used the drug as a replacement for pentobarbital, a barbiturate intended to sedate patients before surgery or treat epilepsy, but which has been used by some states in the first step of the lethal injection phase. Beginning in 2011, the European Union banned the sale of barbiturates and other sedatives to state correctional departments using the drugs for executions.
Other companies around the world have also halted the sale of such drugs to the United States, leaving some states with shrinking supplies to experiment with alternatives. Last year, Texas executed a man by administering the same narcotic used by veterinarians to put animals to sleep.
In July, Missouri's attorney general pushed the Supreme Court to carry out pending executions before the state's supply of drugs expired, because the only other alternative would be to use gas chambers. Under the state's law, two forms of execution are legal: lethal injection and lethal gas. In October, a state senator also pushed Missouri's governor to include gas chamber funding in its fiscal 2015 budget.
Kimbrough and McCoskey were the 33rd and 34th executions in the United States this year, respectively. By carrying out 15, Texas has been responsible for nearly half of them.
You can share this story on social media: