"Merchant of Death" or victim of US propaganda?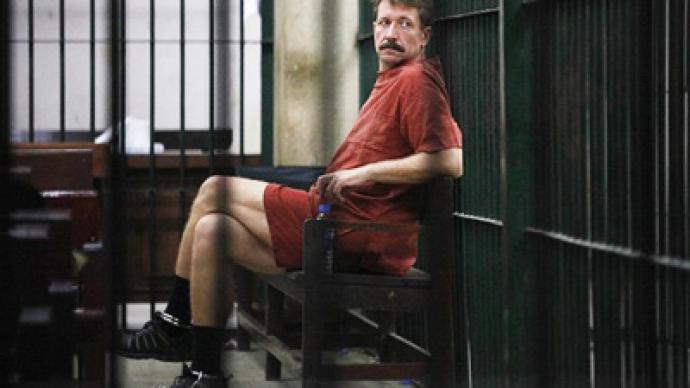 True to Hollywood form, Americans loves a great villain. Viktor Bout, the alleged arms trafficker dubbed the "merchant of death" by the US government appeared in a Manhattan court.
In the film "Lord of War" Nicolas Cage plays the "merchant of death". US officials celebrate his arrest. Who is this "merchant of death" and why is he getting all of this attention?"The U.S. over a course of 8 years cultivated this image of an evil mastermind. Apparently, they have no other problems nowadays – there is only Viktor Bout. There is no Osama bin Laden, no Al Qaeda, no problems in Afghanistan, no problems in Iraq. There is only Viktor Bout the evil man," said Bout's wife Alla. Viktor bout is a Russian cargo-dealing businessman. Chased by the US for a decade he was arrested in Thailand two years ago. After Thai courts twice found him not guilty of certain crimes he was extradited to the US this November to face charges presented by US prosecutors. "One – conspiring to kill United States nationals. Two – conspiring to kill United States officers and employees. Three – conspiring to use and acquire anti-aircraft missiles. And four – conspiring to provide material support to the FARC," said Preet Bharara, US Attorney for the Southern District of New York, reading the charges at a press-conference following Bout's extradition. Already dubbed an international arms trafficker by the US, Bout is being held in a New York prison.Even though his trial date has not been set, the man has spent almost two months in solitary confinement. His only contact with the outside world consists of meetings with his defense team, as well as once a week check-in from the Russian Consulate.Having arrived to the US to support their relative, Bout's family has received a far from warm welcome in the States.His wife Alla was held at the airport for almost three hours."The immigration officer asked me if I knew my husband was a terrorist," Alla explained.While accusations are flying, Bout's case legally remains in Thailand."According to Bout's Thai and Russian lawyers, his case to this moment remains in a Thai court, meaning there was no official decision of an extradition," said vice-consul of the Russian Consulate in New York Aleksandr Otchainov.This has been raising the question of whether the U.S. broke laws in whisking him away onto its soil."Viktor Bout has not committed any criminal activity, and has not been found guilty neither in the US nor in any other country," Otchainov added.Bout has said he is the victim of a propaganda war launched in America. His wife believes the case against her husband was fabricated, and calls what happened to him a kidnapping. "I can accept the possibility that Viktor might have some information that might be of interest to someone. Why is it that some other states don't just think to themselves that there is someone who has some interesting information, and why don't those governments just drag those people onto their territory?"she remarked. Technical pre-trial hearings for Bout begin in Manhattan the week of January 20, but legal experts say it will be months until the start of the actual trial.If found guilty in US federal court Bout could face up to a life behind bars.Investigative journalist Wayne Madsen, who has followed the Bout case extensively, explained Bout is charged with attempting and conspiring to sell arms to terrorists, specifically the FARC group in Columbia."A lot of people actually question if the rule of law even applies to the United States anymore," he said "I doubt he is going to get a fair trial here."Russia has been heavily critical of the extradition from Thailand, citing multiple political and legal complaints. Some speculate a deal may be in the works."There may be some kind of deal in the works," Madsen said. "I don't know."He explained the US is more interested in keeping Bout hidden and quiet to save their own interests because he may possess extensive information that could be damaging to US political leaders and other high ranking officials.
You can share this story on social media: