Viktor Bout's family receives Homeland Security shakedown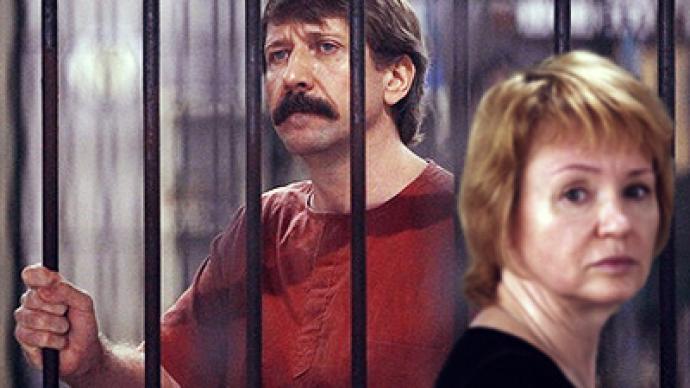 The wife of Viktor Bout told reporters she and her family were subjected to a lengthy "interrogation" by US Homeland Security agents after being escorted off their airplane in New York
Viktor Bout's wife Alla, daughter Liza and mother Raisa arrived in John F. Kennedy international airport on Friday in order to be present at Mr. Bout's upcoming pre-trial.
While not necessarily expecting a warm welcome by Homeland Security, they also were not expecting to be treated like criminals.
Bout's family was detained at Kennedy airport for three hours, while his wife was interrogated by Homeland Security Department agents for two hours.
"They have clearly been waiting for us,"
Alla Bout told RT following the interrogation session.
"They turned our luggage upside down and took away all the personal things from my bag. They told me to switch off my cell phone and did not allow me to get in touch with the Russian consul until this interrogation … was over."
"A person who identified himself as a special anti-terror agent said he wanted to talk to me about the purpose of my visit, and my plans and intentions here," Bout continued. "He had a long list of questions that he wanted to ask, but I told him I was waiting for a Russian embassy representative, my lawyers and an interpreter, and that I would speak with him only in their presence."
Bout said that an immigration officer asked her if she "knew that my husband was a terrorist and why he was arrested."

She responded that no evidence was ever presented to prove that her husband was a terrorist.
Meanwhile, Alla Bout revealed that US immigration officers denied her the right to communicate with the Russian consulate.
"The vice consul called me, but they ordered me to switch off the phone,"
she added.
Alexander Otchainov of the Russian Consulate in New York attempted to clarify the reason why Bout's family was provisionally detained at the airport, but was given no explanation.
Russian officials are also trying to understand why US authorities applied "excessive pressure" on Viktor Bout's wife and family when they had already acquired all the necessary documents for legal entry into the United States from the US Embassy in Moscow.
"This is greatly disturbing,"
commented a senior diplomat at the Ministry of Foreign Affairs, who spoke on condition of anonymity due to the sensitivity of the case.
"First, they [Bout's family members] are hustled off of the plane like common bandits, and then they are interrogated for several hours. This is simply absurd and…violates all international norms of proper conduct in such situations."
Welcome to the Department of Homeland Security

The Department of Homeland Security (DHS) was created with the purpose of bringing more unity and cohesiveness to the sprawling US security apparatus. However, it seems to have created in its place a bureaucratic Frankenstein's monster of many tentacles and no head.
DHS came into force during the George W. Bush administration as a result of the Homeland Security Act of 2002. The DHS incorporates various government agencies, including the Secret Service, Federal Emergency Management Agency and the Immigration and Customs Enforcement.
Following the massive security lapse of 9/11, US airport security was quickly brought under the heel of the federal government, thus forming a massive new bureaucracy inside of the DHS known as the Transportation Security Administration (TSA), which has reportedly swollen to almost 100,000 employees nationwide.
Thanks to so many extra people armed and empowered to "protect the public," an increasing number of travelers to and from the United States are reporting rude and intrusive treatment at US airports.
Things came to a head in November when a would-be airline passenger John Tyner, armed with nothing more than an iPhone, recorded his conversation with several TSA officials who randomly pulled him aside for a full body scan at the San Diego airport.
Opting instead for a body pat-down, his warning to the inspecting officer, "If you touch my junk, I'll have you arrested," attested to mounting frustration with the security hurdles, while also becoming a YouTube hit.
An uphill legal battle
Viktor Bout, who once served as a translator in the Soviet Army, was arrested in Thailand in March 2008 during a sting operation orchestrated by U.S. agents. What followed was a two-year legal nightmare for the "Merchant of Death," as he has been dubbed in the Western media, no less Hollywood.
In 2005, Nicolas Cage (in the role of Yuri Orlov) starred in a Hollywood film entitled Lord of War, which tells the story of a Ukrainian gunrunner that was said to have been based on the life of Viktor Bout.
Initially, the United States was hoping to place Bout on trial for supplying weapons to Colombian Farc rebels. This attempt failed, however, after the Thai courts ruled that such a case was "political."
"This is a political case,"
returned the verdict at Bangkok's Criminal Court.
"The Farc is fighting for a political cause and is not a criminal gang. Thailand does not recognize the Farc as a terrorist group."
Just as it looked like there was some light at the end of Viktor Bout's legal purgatory, the Thai appeals court, amidst intense diplomatic pressure from Washington, changed the original ruling. On November 16, 2010, Bout was extradited to the United States, where he now faces charges of arms smuggling, conspiracy to kill US citizens and support for terrorism.
Bout has flatly denied all of the accusations.
In a recent interview with RIA-Novosti, Viktor Bout spoke candidly about his chances of receiving a fair trial in the United States.
I think the American court will not try to sort out the actual objective side of the matter, as the practice of considering cases when foreigners are accused of a conspiracy against the United States shows that such charges automatically mean guilt.

"For 10 years the government bodies of the United States…have been waging a war against me and my family. Streams of lies have been poured on us. In these conditions, no one here – including the judges – can be unbiased…
Pre-trial hearings for Viktor Bout will begin on January 10.
Robert Bridge, RT