Viktor Bout's wife claims unfair treatment by US security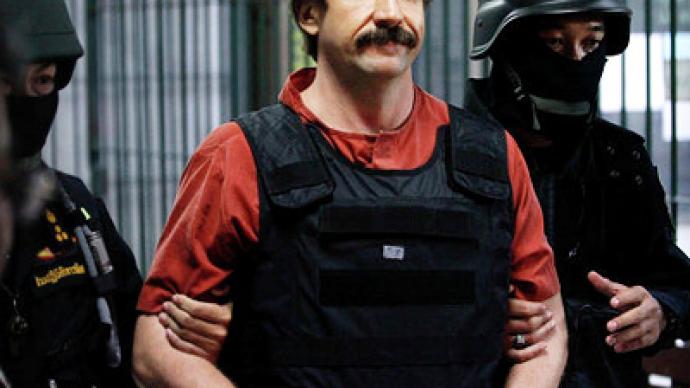 Family members of alleged Russian arms dealer Viktor Bout have expressed outrage at the way they were treated on arrival in the US. Bout's wife, Alla, claims they were "interrogated" for hours and treated like terrorists.
Alla Bout, her elderly mother-in-law and her teenage daughter are in New York for the first time since Viktor Bout's extradition. Upon their arrival to JFK airport they were immediately approached by US officials and taken to an area where they were asked numerous questions for two and a half hours. RT talked to Alla Bout after she left the airport.  "They have clearly been waiting for us," she said. "They turned our luggage upside down and took away all the personal things from my bag.""One person introduced himself as a special anti-terror agent. He said he wanted to talk to me about the purpose of my visit."According to Alla, they also asked her questions such as whether or not she knew her husband was a terrorist. "I said I didn't know why my husband was being kept in New York, because no one has proven he was a terrorist or linked to terrorism," she told RT. The Russian vice consul in New York was present at the airport and tried to reach Alla Bout on her cell phone several times. "They told me to switch off my cell phone and did not allow me to get in touch with the Russian consul until this interrogation was over," explains Viktor Bout's wife. The fact that the US officials did not let the vice consul talk to Alla Bout is procedurally worth questioning. The consul should be allowed to intervene when a situation like that takes place and involves a citizen of his country. Viktor Bout was arrested in 2008 during a sting operation by US authorities. After two and half years of being held in a Bangkok prison he was extradited to the US where he now faces four charges, including conspiring to supply arms to terrorist groups.Alla Bout believes the case is simply propaganda and she does not count on the trial in New York being fair. "We came here to fight for Viktor's freedom and to win. I hope common sense will prevail in court, because it's very hard with all the propaganda against Viktor in the American media," she said in the interview. "But I do hope for normal proceedings and professionalism in court, because it's difficult to fight with the kind of image of Viktor that has been created here, and I doubt the court will be unbiased."Alla Bout intends to remain in the US until she is permitted to meet her husband. That is something that does not seem possible at the moment, since Viktor Bout is in solitary confinement and needs to be moved to another cell for that to happen. At the moment he is only allowed to meet with members of his defense team, as well as members of the Russian Consulate once a week. Viktor Bout has always denied all the allegations put forward against him. Technical pre-trial hearings are scheduled to begin on Monday. The start date for the trial remains unknown, but according to some, it could be several months away.Moscow has criticized Bout's extradition and the conditions of his arrest, though saying it was only protecting his rights as a Russian citizen and not defending him.
You can share this story on social media: