Assault weapons ban introduced in the Senate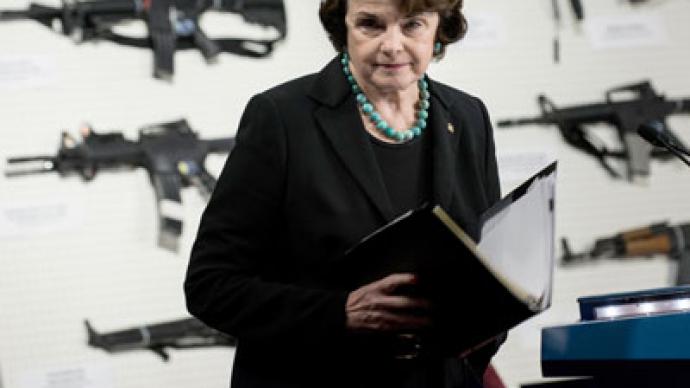 Sen. Dianne Feinstein (D-Calif.) on Thursday introduced a bill banning assault weapons and high-capacity ammunition clips, briefing members of Congress in front of a display featuring various deadly firearms that would be prohibited under the ban.
"Together we are introducing legislation to help end the mass shootings that have devastated countless families and terrorized communities," Feinstein said in her opening remarks at a briefing on Capitol Hill.The senator invited police officers, shooting victims and legislators to emphasize the need for her measure, which would resurrect a federal ban on assault weapons and more narrowly define them. As the speakers testified, they stood beside a large display of 10 different types of assault weapons, which are illegal in Washington, DC. Feinstein was required to get special permission to bring the deadly weapons into the US Capitol.Combined with testimonies about gun violence and lost lives, Feinstein introduced her proposal. The new legislation would ban 158 specifically named firearms, as well as certain semiautomatic rifles, handguns and shotguns that take a detachable magazine. It would also limit magazines to nine rounds of ammunition.The measure would not affect owners who already possess such weapons and would not affect the sale of hunting, sporting, antique, manually operated and disabled weapons. But US residents who want to transfer their assault weapons to another person would not be able to legally do so unless the new owner commits to a background check."The purpose is to dry up the supply of these weapons over time, therefore there is no sunset on this bill," Feinstein said. The bill protects 2,200 specifically named hunting or sporting rifles, keeping them exempt from the rules of the legislation. The 1994 Assault Weapons Ban only protected 375 such weapons, which would cause US gun owners to have more options under the current proposal."This bill will be a signature moment in providing a profoundly significant step in the legislative strategy," said Sen. Richard Blumenthal (D-Conn.), who joined forces with Feinstein in drafting the legislation. "But it is only a first step and we need to build on it with a comprehensive program" that includes expanded background checks and greater mental health care initiatives.
The bill is likely to face harsh opposition from GOP lawmakers who have already pledged to oppose any new gun control regulations.But an assault weapons ban has existed before, which gives the senator hope that it can exist again. Her proposal resembles a version of the assault-weapons ban that expired in 2004. Feinstein authored the 1994 Assault Weapons Ban and has long pushed for bringing it back after it expired, but has faced immense opposition from congressional Republicans, many of whom believe the bill would diminish the Second Amendment right to own firearms. The senator has been drafting this bill ever since the December massacre at Sandy Hook Elementary School left 26 people dead, 20 of which were children. Feinstein's legislation is aimed to prevent another such shooting by keeping guns out of the hands of the mentally ill and by limiting the sales of military-style assault weapons that can quickly massacre dozens of people. The US was host to 15 mass shootings in the year 2012, including the massacre of 12 people in a movie theater in Aurora, Colo., and the massacre of six people in a Sikh temple in Oak Creek, Wis."I have worked on this for a long time," Feinstein said in a USA Today interview. "I'm not a newcomer or a novice to guns."After family members of shooting victims displayed photographs of the loved ones they lost, Feinstein wrapped up the briefing with a strong urge to take action."Guns designed military use [are] bought all over this country and often used for mass murder. This is really an uphill road. If anyone asked today, 'Can you win this?' The answer is, 'we don't know," Feinstein said."But only if you stand up, if America rises up, if people care enough to call every member of the House and every member of the Senate and say 'we have had enough'" can this legislation be enacted, she added.Feinstein to introduce the bill today in the Senate.
You can share this story on social media: