Obama demands ban on assault weapons from Congress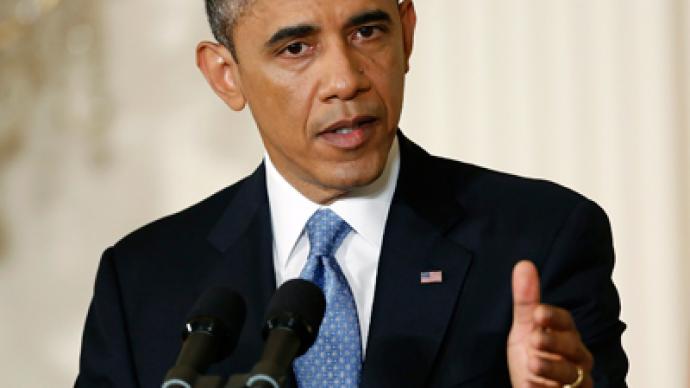 From Washington on Wednesday, United States President Barack Obama called on Congress to pass a number of proposals that could allow for sweeping new gun laws across the country.
In an address delivered to an audience made up of the families of victims of last month's mass shooting in Newtown, Connecticut, Pres. Obama asked Congress to pass a series a proposals aimed at extinguishing an epidemic of gun violence currently plaguing the country. If approved, the measures will ban the buying and selling of certain assault weapons, close loopholes that circumvent a background check requirement, impose limits on ammunition purchases and more. "If there was even one thing we could do to reduce this violence, if there is even one life that can be saved, then we have an obligation to try it. And I'm going to do my part," said Mr. Obama.Vice President Joe Biden set the stage for the brief address from Mr. Obama, telling his audience, "The president and I are going to do everything in our power to honor the memory of your children and your wives with the work we take up here today.""It's been 33 days since the nation's heart was broken by the horrific, senseless violence that took place at Sandy Hook Elementary School," Mr. Biden said of last month's shooting. "Never have I seen the nation's conscious so shaken by what happened at Sandy Hook."In the aftermath of that incident and a wave of other ones, Vice President Biden says he met with a number of lawmakers, individuals and groups in order to draft a series of new gun law recommendations that were presented to Mr. Obama earlier this week."We must do what we can do now, and there is no person more committed to acting on this moral obligation that we have than the president of the Unites States of America," said Mr. Biden.After approaching the podium, Mr. Obama touched briefly on the Newtown tragedy before beginning to announce what exactly the proposal he is sending to Congress entails. "I asked Joe to lead an effort along with members of my cabinet to come up with some concrete steps we can take right now to keep our children safe: To help prevent mass shootings [and] to help reduce the broader epidemic of gun violence in our country. And we can't put this off any longer," said the president."In the month since 20 precious children and 6 brave adults were violently taken from us," added Mr. Obama, "…more than 900 of our fellow Americans have reportedly died at the end of a gun.""Every day we wait, that number will keep growing," he said. Based on the work of Vice President Biden, Mr. Obama announced a number of proposals, 23 in all, that he hopes Congress will approve in the coming days."First, it's time for Congress to require a universal background check for anyone trying to buy a gun," he said to a round of applause. "The law already requires licensed gun dealers to require background checks…but it's hard to enforce that law when as many as 40 percent of all gun purchases are conducted without a background check. That's not safe, that's not smart [and] it's not fair to responsible gun buyers or sellers.""If you want to buy a gun, whether it's from a licensed dealer or a private seller, you should at least have to show that you are not a felon," said the president. "This is common sense.""Second, Congress should restore a ban on military style assault weapons and a ten-round limit for magazines," he added to yet more applause. Pres. Obama suggested that last year's massacre at an Aurora, Colorado movie theater could have been prevented if gun owners weren't allowed to legally purchase massive amounts of dangerous ammunition that he said serve no purpose other than to kill."Weapons designed for the theater of war have no place in a movie theater," pleaded the president, who reminded his audience that even NRA-endorsed former President Ronald Reagan urged for a ban on the further manufacture of military style assault weapons once out of office. Additionally, Pres. Obama said he was asking Congress to approve a measure that will allow for the federal government to assist local law enforcement agencies around the country and another that will increase scientific research involving American violence.Moments after he finished addressing the crowd, Pres. Obama signed the order and urged lawmakers to approve it. Before he could do as much, though, the commander-in-chief acknowledged that his proposal is expected to come under attack immediately from his political opponents in Washington and elsewhere. "These are common sense measures. They have the support of the majority of American people. Yet this doesn't mean that any of this will be easy to enact," he said. "I will put everything I've got into this, and so will Joe [Biden], but I tell ya, the only way we can change is if the American people demand it. And by the way, that doesn't just mean that from certain parts of the country. We are going to need voices in those areas in those congressional districts where the tradition of gun ownership is strong. It can't just be the usual suspects," said the president. "This will not happen unless the American people demand it."If lawmakers tell members of their communities they don't approve the White House's proposal, Pres. Obama said Americans should ask for an explanation."Ask them what's more important?" said the president. "Doing whatever it takes to get an 'A' grade from the gun lobby that funds their campaigns or giving parents some peace of mind when they drop their child off from first grade?"Before he inked his name to the recommendation, Pres. Obama said, "In the days ahead I tend to use whatever weight this office holds to make them a reality."Pres. Obama's announcement comes in the wake of incidents in Colorado in Connecticut recently where lone gunmen opened fire and executed dozens of innocent civilians using high-powered assault weapons. In July 2012, James Holmes allegedly shot-up an Aurora, Colorado movie theatre executing 12 people and injuring 58 others; in December, Adam Lanza used an AR-15 to kill more than 20 people in a Newtown, Connecticut elementary school.
You can share this story on social media: