Netflix defends Chappelle comedy special from protests as employees plan walkout over 'transphobic' jokes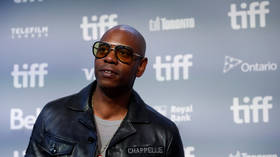 Netflix CEO Ted Sarandos has addressed protests over alleged transphobic jokes in comedian Dave Chappelle's new comedy special, while some workers are reportedly planning a walkout.
"We know that a number of you have been left angry, disappointed and hurt by our decision to put Dave Chappelle's latest special on Netflix," Sarandos wrote in a company-wide email, according to Variety.
Sarandos went on to say he understood the activists were concerned Chappelle's jokes could somehow lead to real world harm against trans people, but made clear the company does not believe that to be the case based on past protests of content it has hosted.
"Last year, we heard similar concerns about '365 Days' and violence against women. While some employees disagree, we have a strong belief that content on screen doesn't directly translate to real-world harm," the Netflix head said.
Also on rt.com
White showrunner behind 'Dear White People' boycotts Netflix over 'transphobic' Dave Chappelle special
Chappelle's comedy special 'The Closer' has found big success with audiences since its release, but it has gotten a more mixed response from critics and trans activists.
While Chappelle never says he is against transgenderism or transgender people in his special, he does use 'woke' activism as a target of jokes, at one point, for instance, equating Caitlyn Jenner winning a 'Woman of the Year' award to white rapper Eminem winning a "N****r of the Year" award.
"Every human being in this room, every human being on Earth, had to pass through the legs of a woman to be on Earth. That is a fact," Chappelle said at another point.
The comedian's supporters have chalked the humor up to his usual edgy style and pushed back against those offended, pointing out that there is nothing hateful in Chappelle's jokes.
Jaclyn Moore, a white transgender showrunner behind Netflix's 'Dear White People', was one of a group enraged by the special and the company's decision to distribute it. She even promised on social media to cease working for the company.
Three employees would go on to face temporary suspensions after they tried to enter a meeting uninvited to express their Chappelle concerns, including Terra Field, a software engineer for the company, who continues to openly protest on social media.
The Los Angeles Times has reported that some Netflix employees are planning a walkout next week in protest of Chappelle and the company's support for him.
Also on rt.com
US labor chaos continues as 10,000 John Deere employees announce strike
"We support artistic expression for our creators. We also encourage our employees to disagree openly," a Netflix spokesperson told The Hill about the potential walkout.
The Gay & Lesbian Alliance Against Defamation (GLAAD), along with other activists on social media, blasted Sarandos' new Chappelle statement and the company's "belief" that jokes will not translate to real violence.
"Authentic media stories about LGBTQ lives have been cited as directly responsible for increasing public support for issues like marriage equality. But film and TV have also been filled with stereotypes and misinformation about us for decades, leading to real world harm, especially for trans people and LGBTQ people of color," GLAAD said in a public statement.
It's absolutely bewildering that Netflix co-CEO Ted Sarandos can say "we have a strong belief that content on screen doesn't directly translate to real-world harm" when last year they released the Netflix Original @Disclosure_Doc, which included salient scenes like this. pic.twitter.com/a8A3FW6fxs

— Out Magazine (@outmagazine) October 14, 2021
This is what half the kidlit world sounded like when we complained about smiling enslaved people in picture books. It's always "the awesome power of story" until a fave does harm and then suddenly stories have no power at all. Can't have it both ways. https://t.co/ebAq3bO6qG

— Daniel José Older (@djolder) October 14, 2021
Chappelle, 48, hasn't said much about his special or the controversy. It's unlikely he's seen the social media pushback (he scoffs that Twitter is "not a real place" in his special), though he did address attempts to "cancel" him during an appearance at the Hollywood Bowl this month.
"If this is what being canceled is like," the comedian said, "I love it." He was more specific at a later point, according to The Hollywood Reporter.
"F*** Twitter. F*** NBC News, ABC News, all these stupid ass networks. I'm not talking to them. I'm talking to you. This is real life."
Chappelle is continuing to tour, with multiple US standup dates with comedian and podcast giant Joe Rogan set for later this month.
Like this story? Share it with a friend!
You can share this story on social media: