Oscars favorite '1917' is touted as a stirring masterpiece about horrors of war. It really isn't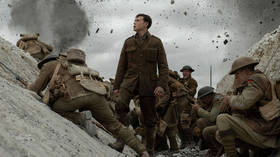 Sam Mendes' visually stunning new war film may generate award-season hype, but it is ultimately an underwhelming and totally forgettable cinematic venture. There are better war films out there.
It's already cleaned up at the Golden Globes
With the media telling me that the world, or certain parts of it, is once again potentially on the verge of war, I did the brave and noble thing and ventured out to my local movie theatre to see Oscar winning director Sam Mendes' new World War I film, 1917.
My hope was that 1917, a recent winner of the Golden Globe for Best Picture and Best Director, would be a powerful film that would remind audiences, particularly the more belligerent American ones, of the spiritual, emotional and physical toll of war and the inherent inhumanity, futility and barbarity of waging one. Sadly, 1917 is not up to the task.
The film, which boasts a solid cast that stars George MacKay, with supporting turns from Dean Charles-Chapman, Mark Strong, Benedict Cumberbatch and Colin Firth, is the story of two British soldiers in World War I sent on a dangerous mission to save hundreds of their countrymen from an impending German ambush.
Also on rt.com
Golden Globe-winning 'feminist' Fleabag is adored by woke critics. Does that mean it's actually terrible?
Beautifully shot but unsatisfying
1917 has all the makings of a great movie, as it tells a compelling war story, is beautifully shot and proficiently acted. The problem, though, is that those ingredients never coalesce into a cohesive cinematic meal that satisfies, and viewers are left still feeling hungry after the closing credits roll.
The best thing about 1917 is the exquisite cinematography, as it is beautifully shot by one of the great cinematographers in film history, Roger Deakins, a 14 time Oscar nominee. The film has generated a lot of buzz because it is shot and edited so that it appears as if the entire movie were filmed in one long take. That 'one long take' approach could be thought a gimmick in lesser hands, but Deakins uses it to expertly draw the viewer into the narrative and escort them through the film's journey. Deakins' ability to use camera movement, framing, light and shadow to propel the story is sublime and visually gorgeous to behold.
No, the problem with 1917 is certainly not the look of the film, but rather the feel of it. As impressive as the movie is visually, it never resonates emotionally and ends up being a rather hollow cinematic experience. The blame for that failure lay squarely at the feet of writer/director Sam Mendes.
Mendes' shallow script has fundamental structural and dramatic flaws, such as plot points that hit too soon or too late, that keep viewers at arms length from the two main characters, Lance Corporal William Schofield (MacKay) and Lance Corporal Tom Blake (Charles-Chapman). Due to the script's failures, viewers never really have too much invested in Schofield and Blake, as they are whisked along on their perilous odyssey. This emotional detachment reduces the twists and turns of the story into mere storytelling devices without emotional power, and thus the movie often feels reduced to a roller coaster ride or a video game, which can be exciting, but predictable, and never dramatically profound.
Also on rt.com
Oh my God, he mentioned Epstein! Please stop fawning over faux-edgy has-been Ricky Gervais' Golden Globes schtick
Sam Mendes is overrated
I have long found Mendes to be a middling talent, and a brief perusal of his filmography is a study in underachievement and wasted opportunities. American Beauty (1999) won Mendes his Best Directing Oscar but is a movie that has not stood the test of time and is, in fact, like its star Kevin Spacey, quite embarrassing in retrospect. Other Mendes films, like Road to Perdition (2002), Jarhead (2005) and Revolutionary Road (2008) had fantastic casts and interesting stories but, like 1917, never rose to cinematic greatness.
Another issue plaguing 1917 is that as a war movie it will inevitably be measured against other notable films in that genre, and it does not fare well in comparison. For instance, it is not as technically superior, particularly in terms of the sound, or as artistically ambitious as Christopher Nolan's time and perspective bending WWII tour de force Dunkirk (2017). It lacks the emotional resonance and spiritual profundity of Terrence Malick's thoughtful The Thin Red Line (1998), and has nowhere near the psychological and political insights of a masterpiece like Stanley Kubrick's Paths of Glory (1957). It also fails to convey the sheer madness and depravity of war like Francis Ford Coppola's Apocalypse Now (1979), Oliver Stone's Platoon (1986) and Kubrick's Full Metal Jacket (1987).
Also on rt.com
Too white, or too woke? 'Little Women' shredded in media gauntlet, but critics are the ones flaunting their privilege
A cowardly movie about bravery
On the surface, 1917 is somewhat evasive in its political, moral and ethical perspective, and avoids dirtying its hands in the complexity of war. Mendes shows his true bourgeois colors, though, by choosing to focus the narrative exclusively on the nobility and heroism of the soldiers who fight the war and never even hinting at the malignancy of those in the officer and ruling class who cynically wage it. In Mendes' hands, World War I is a morally sterile and ethically antiseptic venture that was little more than a stage to showcase the better angels of British soldier's nature.
Mendes sticks to this painstakingly straightforward and uncomplicated approach in 1917 because he wants the audience, particularly the older, Anglophile viewers who vote for the Academy Awards, to mindlessly gobble up his middle-brow Oscar bait and not get bogged down with too many difficult questions he is ill-equipped to ask, never mind answer.
Sadly, in the hands of the artistically obtuse Sam Mendes, 1917 is incapable of being the great and profound war film the world needs right now, the type that challenges audiences and changes hearts and minds. At its best, 1917 is a stunning piece of technical virtuosity reduced to a mildly entertaining, but ultimately ordinary film.
Think your friends would be interested? Share this story!
The statements, views and opinions expressed in this column are solely those of the author and do not necessarily represent those of RT.
You can share this story on social media: