Oh my God, he mentioned Epstein! Please stop fawning over faux-edgy has-been Ricky Gervais' Golden Globes schtick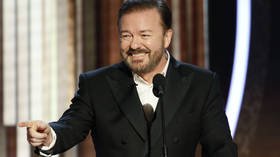 There are two ways of looking at the Ricky Gervais gig of hosting the Golden Globes. Is he the Hollywood truth-teller, fearing no-one and skewering at will with an excruciating acid wit? Or is he just a lazy, had-it-lost-it Brit?
While the liberal luvvies of Hollywood cover their gaping mouths in mock horror – "Did he really say, what I just thought he said?" – the truth is, and this red-carpet crowd know it, that nothing Gervais says hosting one of their big self-congratulatory events is going to offend, shock or upset anyone.
Otherwise the organisers would never have invited him… and back another four times.
Try dropping a genuine clanger at some liberal soul's suburban dinner party – say, about restricting immigration or even voting for Brexit – and see how quickly further invitations dry up. A liberal does not forget.
Seems the Hollywood crowd is not really that aghast.
So the total faux shock from these La La Land stooges is pretty hard to swallow. The Golden Globes team are prepared to put up with the swearing and lack of humour because Ricky has convinced them he has an edge that an otherwise lame (and frankly, boring) event needs.
But Gervais is not the answer and his 'jokes' are neither funny nor particularly edgy.
Leonardo Di Caprio likes his girlfriends young. Gasp! Imagine Dame Judi Dench licking her own bum. Outrageous! Jeffrey Epstein didn't kill himself. You can't say that! Ricky drops the f-word. OMG! Where's my phone, I need to tweet how upset I am.
It's as fake and rehearsed as anything these people work on in their professional lives in that world of illusion and make-believe.
Also on rt.com
Golden Globes' showy tears for Australian fires perfect example of how some disasters seem to matter more than others
Most tragically, this winking, predictable shock jock persona is the perfect representation of where Ricky Gervais is with his career.
From the heady days of The Office, he's drifted far from the shores of comedy, making a succession of instantly forgettable movies (The Invention of Lying or Special Correspondents, anyone?), shows where he creepily fawns over his own comedy idols (Ricky Gervais Meets… and Talking Funny), godawful, unfunny and trite stand-up tours, the chance to have a (hopefully) last hurrah on the Golden Globes stage in front of the people he most desperately wants to like him must have been a godsend.
Have a dig at the soft targets, the imprisoned (Felicity Huffman), the dead (Epstein), the unlikely to complain (Prince Andrew) and string it all out into a monologue with a few cuss words and it's job done for another year.
As Gervais said, among his many asides, "It's the last time, who cares?"
Not our pal Ricky, that's for sure. His early work is rightly considered great. It was fantastic observational humour that wasn't aimed to shock but to hold a mirror up to us all to show us how ridiculous we are. It was us laughing at ourselves.
Also on rt.com
We're saved! Golden Globes serving plant-based meals to 'send a signal' about climate change
Then Gervais evolved into The Office anti-hero he created, David Brent. Convinced of his own genius and place alongside the gods of comedy on some funny person's Olympus, yet with an undercurrent of desperation that is never far away.
He must on some level realize how far he has fallen from his own standards, yet he keeps compromising himself further and further to get that laugh.
In one show during his 'meet my heroes' phase, Gervais interviewed US comedy legend Garry Shandling, who sniffed out that people-pleasing insecurity and ego in him and proceeded to incessantly mock and confuse the Brit with dig after sly dig.
At one point, a doorbell rings in Shandling's house and he tells Gervais, "That's my ass detector and it's gone off because you're here."
That ass detector must have rung off its hook during the Golden Globes.
The statements, views and opinions expressed in this column are solely those of the author and do not necessarily represent those of RT.
You can share this story on social media: