Golden Globe-winning 'feminist' Fleabag is adored by woke critics. Does that mean it's actually terrible?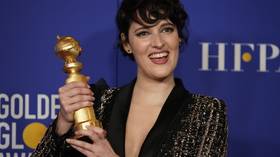 We've become wary of watching something just because it's been hyped by critics with an agenda. But does that mean we are missing out on great shows? I tried to watch Fleabag without all the baggage…
Sunday night at the Golden Globes, the British comedy about a serially self-destructive and sexually voracious woman, which is created by, written and starring Phoebe Waller-Bridge, was a big winner as it snagged trophies for Comedy Series and Actress in a Comedy.
Fleabag's Golden Globe success comes on the heels of its domination at the Emmys this past September, where it won awards for Best Comedy, Lead Actress, Writing and Directing.
Also on rt.com
Oh my God, he mentioned Epstein! Please stop fawning over faux-edgy has-been Ricky Gervais' Golden Globes schtick
Fleabag started as a one-woman stage show back in 2013, and after being adapted for TV and premiering on Amazon's streaming service in 2016, it has over two seasons gradually built an audience through positive word of mouth and critical acclaim.
Fleabag had successfully eluded my attention up until 2019 when its second, and allegedly final, season arrived with much fanfare. I found myself immediately resistant to watching the show as I was very dubious of the relentless critical praise for it.
My reticence regarding Fleabag was fueled by the assumption that critics loved it not because it was good but simply because it was created by a woman. In other words, I assumed the critical adoration was because it was a "feminist" show that checked all the right cultural and political boxes.
I had my fingers burned with Lady Bird & Black Panther
My skepticism regarding critical opinion has been hard-earned, as it seems all criticism of entertainment nowadays is rife with political agendas that far outweigh quality in a critic's professional criteria.
A prime example of this biased critical approach is the 2017 film Lady Bird. Lady Bird, which was directed by Greta Gerwig, was met with unabashed critical swooning upon its release. Amidst all of this vociferous praise I was excited to go see Lady Bird…and then I saw it. To call Lady Bird a raging mediocrity would be an insult to raging mediocrities.
It was readily apparent to me that Lady Bird, which boasts a 99 percent critical score on Rotten Tomatoes, was being graded on a woke political curve simply because it had a female writer/director at the helm. By pointing this fact out I became the turd in the punchbowl at Greta Gerwig's coronation as the new Queen of Cinema and was quickly labeled a misogynist for my treason and cast out of the Kingdom of Right Thinking People.
Also on rt.com
'Knives out' – new film from 'The Last Jedi' director Rian Johnson – sharpens the blade of anti-white racism
Contrary to woke opinion, I didn't find Lady Bird to be overrated due to misogyny but rather because I am a devout cinephile whose assessment of a film is based first and foremost on its quality, not its diversity and inclusion. By that measurement, I found Lady Bird to be amateurish and trite, more akin to a collection of bad Saturday Night Live skits than a serious piece of cinema.
Transparent, the 2014 Amazon comedy/drama about a father who becomes a trans-woman, is another example of critical judgment skewed for symbolic political purposes. The show, which was created by Jill Soloway and starred Jeffrey Tambor as Mort – who becomes Maura, won eight Emmys over its four seasons. Critics gushed over Transparent, as it received critical scores on Rotten Tomatoes of 98, 98 and 100 over its first three seasons.
I watched the show because I had heard that Tambor, an actor I deeply respect, did amazing work in it…and he did…but the show itself was so God-awful it made my stomach hurt. I have never seen a collection of more repulsive characters and vapid caricatures on one show in my entire life. My loathing of Transparent was met with predictable accusations of transphobia, which is ironic since the characters I found so repellent weren't the trans-gendered ones, but the cis-gendered ones.
The critics who love Lady Bird, Transparent and even Black Panther, which is a painfully middling and unimpressive Marvel movie, do so because those movies represent a sort of utopian dream of diversity and inclusion, not because they are creative and artistic masterpieces. Having the "correct" politics now trumps great artistic achievement in the eyes of critics, which is why I am so suspicious of their opinion.
The right kind of feminist show
Which brings me back to Fleabag. By the time I had become aware of Fleabag I was already thoroughly jaded by my experience of Lady Bird, Transparent and Black Panther among others. Unfortunately, in response to critics pushing their political bias I had reflexively formed my own bias against the shows they endorsed. I realized that assuming Fleabag was just another vacuous "girl power" show solely based on the critics' love for it was just as vapid an approach to criticism as the woke critics I abhor. So I took the plunge and watched Fleabag.
Contrary to my contrarian instincts, Fleabag is absolutely, insanely and infectiously fantastic. The show is not some recipient of a woke-inspired critical leg up, but rather is an offbeat, gutter-dwelling, low-brow, sort of masterpiece of the half hour comedy genre.
The writing is gloriously crisp and comedically precise while the cast, most notably Phoebe Waller-Bridge, Olivia Colman, Bill Patterson and Andrew Scott, are spectacular.
Fleabag is a feminist show, but not in the sense of how that term is misused in our popular culture at the moment. Fleabag does not embrace victimhood or blame men, instead the lead character, brilliantly played by Phoebe Waller-Bridge, is a fully formed, multi-dimensional person who has agency in her life and is solely responsible for the hysterical mess she's made of it.
If, like me, you have a plethora of pop culture scar tissue and stayed far away from Fleabag out of fear that it is just another piece of politically correct garbage, I promise you that it isn't.
The show is not for everybody – if there is a line to be crossed into amoral or raunchy behavior, Fleabag will cross it – but it is as good a comedy show as you will find anywhere on television.
Subscribe to RT newsletter to get stories the mainstream media won't tell you.
The statements, views and opinions expressed in this column are solely those of the author and do not necessarily represent those of RT.
You can share this story on social media: