US labor chaos continues as 10,000 John Deere employees announce strike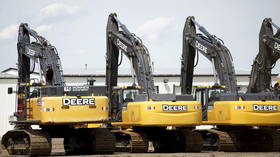 Over 10,000 employees of the farming manufacturer John Deere announced they are going on strike after failing to agree to a pay contract, all while numerous industries are being plagued by labor issues.
The United Auto Workers (UAW) union announced the strike on Thursday morning, which will affect over a dozen plants for John Deere. The company, based out of Moline, Illinois, has not faced a strike for 35 years.
"Our members at John Deere strike for the ability to earn a decent living, retire with dignity and establish fair work rules," said Chuck Browning, vice president and director of the UAW's Agricultural Implement Department.
Workers are looking for increased pay, improved benefits, and better working conditions, especially after having worked through the Covid-19 pandemic as 'essential' workers.
Also on rt.com
US consumer prices make biggest year-to-year jump in 13 years
"UAW John Deere members have worked through the pandemic after the company deemed them essential, to produce the equipment that feeds America, builds America and powers the American economy," UAW President Ray Curry noted in a statement announcing the strike. Picket strikes have also been set up at various John Deere locations too, according to the union.
Workers and John Deere had until the end of Wednesday to reach an agreement, but one presented by the company that did provide pay raises was quickly rejected, with workers noting the pay raises were miniscule compared to the billions in profit the company will bring in, and they were slightly offset by new pension cuts.
Striking John Deere workers in Ottumwa, Iowa, tell us that there are over 120 people on the picket line. Restaurants are bringing down food for picketing workers and giving in-store discounts to union members, and Teamsters and UPS workers are refusing to cross the picket line. pic.twitter.com/ObjA1zR6za

— More Perfect Union (@MorePerfectUS) October 14, 2021
A spokesperson for Deere has said they do not know when the strike will end, but they will continue to hammer out negotiations to "put every employee in a better economic position and continue to make them the highest paid employees in the agriculture and construction industries."
The massive strike for John Deere comes amidst what many experts have said is a serious labor issue across the US. Labor Department data shows people are quitting their jobs at record rates, despite many companies facing labor shortages they are struggling to fill. Covid-19 vaccine mandates being implemented has only created further issues, with some workers forced to leave positions in the travel industry or even healthcare.
Deere employees are far from the only ones this year to make a stand on payment and treatment, either. The International Alliance of Theatrical Stage Employees (IATSE) previously announced tens of thousands of members will be striking from the film and television industry, with over 90% voting in favor of a strike.
If you like this story, share it with a friend!
You can share this story on social media: