'Witch hunt'? Police officers & firefighters probed, employees losing jobs for partaking in US Capitol protest-turned-riot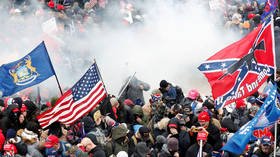 Seattle's police department is investigating two of its officers after finding out they were in Washington, DC, as public and private employees face scrutiny for partaking in the pro-Trump rally-turned-riot at the US Capitol.
"The department fully supports all lawful expressions of First Amendment freedom of speech, but the violent mob and events that unfolded at the US Capitol were unlawful and resulted in the death of another police officer," Seattle Police Chief Adrian Diaz said on Friday night in a statement.
The two officers were placed on administrative leave during the investigation. Any officers who were "directly involved" in the "insurrection" at the Capitol will be fired right away, Diaz said.
Also on rt.com
After Capitol Hill riots, children rat out their right-wing parents to the media
The probe comes as businesses and governments across the US look to jettison employees who may have taken part in Wednesday's violent protest in Washington to fight the certification of President-elect Joe Biden's electoral votes. The CEO of suburban Chicago-based data analytics firm Cogensia was fired on Friday after being arrested over his alleged role in the riot, as was the associate general counsel of Texas-based Goosehead Insurance. The latter claimed he was peacefully demonstrating.
READ MORE: USA Today asks to ID rioters in Capitol invasion. Readers question why summer unrest was treated differently
A Chicago real estate agent also lost her job after saying on social media that she took part in "storming the Capitol." A Saint Vincent College professor was cut loose by the Pennsylvania school after he shared pictures of himself outside the Capitol on Wednesday. The president of the Richmond Food Truck Association was forced to resign for participating in the protest.
And as the Seattle investigation shows, public-sector employers also are cracking down. The Allentown School District in Pennsylvania has a similar investigation underway, concerning an employee who may have been involved in the protest.
Also on rt.com
Whom to cancel next? Singer Ariel Pink dropped by label after artist attended pro-Trump rally that led to Capitol unrest
The city of Pittsburgh said on Saturday that any employees who are found to have participated in the "deadly insurrection" will face "appropriate disciplinary action." The FBI is reportedly investigating whether New York City firefighters were involved in the breach of the Capitol. A photo on social media showed a man standing near the Capitol entrance, wearing a jacket marked "FDNY Squad 252" on the back. A department spokesman told the New York Post that the man is "believed to be retired."
The crackdown is raising questions over whether people who took part in the DC protests peacefully and legally will be lumped in with law-breakers and punished.
99% there did nothing wrong. But don't let that stop your witch hunt!

— GAB @Dekdarion (@TeardropAmethy1) January 9, 2021
"Are people gonna lose their jobs for just being at the Trump march… and not the Capitol raid? Because if so, that's a bit much," Twitter commentator Ian Miles Cheong tweeted. Another observer added: "Ninety-nine percent there did nothing wrong, but don't let that stop your witch hunt."
Others pointed out the contrast in employer reaction to last summer's Black Lives Matter and Antifa riots across the US. "What's the big deal?" one commenter said. "Y'all had BLM tearing up the country for six months." Another observer asked: "What if their employees are involved with Antifa or BLM?"
Also on rt.com
Worse than Benghazi? Prosecutors say they'll track down rioters, as liberals compare Capitol riot to Libyan debacle
Think your friends would be interested? Share this story!
You can share this story on social media: