'I'll be back soon!' Trump says he's feeling 'much better', but ready for 'real test' in VIDEO from Walter Reed hospital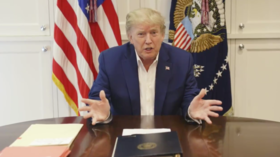 In a 4 minute address to the American people, US President Donald Trump said that he felt much better now than when first admitted to the Walter Reed military hospital, but the next few days will be "the real test."
"I came here, wasn't feeling so well. I feel much better now, we are working hard to get me all the way back," Trump said in a video that was apparently recorded at the Walter Reed Medical Center and posted on his Twitter on Saturday.
I'm starting to feel good. You don't know, over the next period of a few days, I guess that's the real test. So we'll be seeing what happens over those next couple of days.
Seemingly in good spirits, Trump shared his optimism with supporters, saying he hopes to "be back soon" because they still needed to "make America great again."
Trump said almost nothing about the therapies he has been receiving, but bizarrely referred to some of the medications he was taking – as well as those still in development – as "miracles coming down from God."
Doctors previously confirmed Trump was treated with with a dose of experimental antibody cocktail and started taking Remdesivir antiviral therapy, but denied he required any "supplemental oxygen."
Also on rt.com
Trump remains 'fever-free & off supplemental oxygen' but 'not yet out of the woods' – White House physician
The US President expressed gratitude to the medical personnel at Walter Reed for their extraordinary work, as well as American public and world leaders who had sent him and the first lady their best wishes.
READ MORE: China's Xi wishes Trump speedy recovery from Covid-19
Trump was forced to enter quarantine and suspend his campaign events after testing positive for the coronavirus on Thursday night. He stated that he might've stayed at the White House, but that as the American leader he could not "be locked upstairs" and "just say whatever happens happens."
The video address comes amid rumors and heated speculations about the US president's true state of health, after a White House official issued somewhat contradictory statements earlier in the day.
Trump's physician, Dr. Sean Conley, said he was "extremely happy" with Trump's progress, but remains "cautiously optimistic" as they wait to see the "course" of the illness.
White House chief of staff Mark Meadows, however, went off-record but was later identified as saying: "The president's vitals over the last 24 hours were very concerning and the next 48 hours will be critical in terms of his care."
Also on rt.com
Covid's last stand? With Trump laid low by coronavirus, expect a 'miracle cure' before November 3
Think your friends would be interested? Share this story!