Dayton shooter who killed 9 people outside local bar identified as 24yo Connor Betts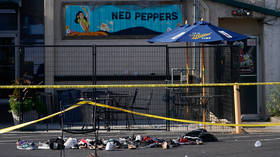 The Dayton, Ohio mass shooting suspect killed 9 people, including his sister, before being taken out by police. Local hospitals treated 27 people in the aftermath, and some remain in critical condition.
The gunman has been identified as 24-year-old Connor Betts of Bellbrook, Ohio, Deputy Police Chief Matt Carper told media later on Sunday.
He also asked reporters to double-check the details they've been putting out about the suspect, as profile pictures and information of several people named Connor Betts have been making the rounds online.
The shooter's sister, Megan Betts, was named among the nine victims. Carper dismissed media reports that she was found dead at a separate location in a car with her boyfriend, pointing to a single shooting scene.
It has been revealed that although Betts did not have a criminal history, there have been indications that he had been troubled before. He once scrawled a "hit-list" of names on a bathroom wall in his school, causing a lockdown. A former fellow student told The Dayton Daily News, that the would-be Ohio gunman "had a plan to shoot up the school."
Mayor Nan Whaley and other Dayton officials gave an update on the night shooting in the city's historic center earlier on Sunday. The attacker was wearing body armor and had several high-capacity magazines for his rifle, the mayor said. Whaley, apparently erroneously, described the weapon used in the attack as an "AK-style rifle." The photos of the rifle, shown by police during a press conference, however, show an AR-style weapon with a drum magazine. Dayton Police Chief Richard Biehl said that Betts obtained the rifle legally, purchasing its online from Texas, which means it would not have burst fire capability 'out of the box.'
Also on rt.com
9 killed as gunman opens fire in Dayton bar district, hours after Texas massacre
Of the 27 people who were brought to hospitals or walked in with injuries in the aftermath of the shooting, 15 have been discharged. Five patients are in critical or serious conditions, with multiple surgeries scheduled to treat them.
Whaley said the Oregon district, where the shooting took place, will be open later in the day.
In the early hours of Sunday, Betts opened fire at people in front of Ned Peppers Bar on Dayton's East 5th Street, where several pubs and restaurants are located. The police said the neighborhood is one of the safest in the city, and that their rapid response was made possible by their patrol schedule.
Also on rt.com
El Paso shooting being treated as domestic terrorism case
Speaking earlier to CNN, Whaley said she's been "a long proponent of the ban on assault weapons," adding that the shooting in her town only proves her point.
"When your city is the 250th mass shooting that has happened this year, I think it has to beg the question: what are we going to do?" she said. "Look, I have had calls from dozens of mayors across the country because we've all been through this and the question is when are we going to have enough?"
Also on rt.com
American gun laws: Why the issues are not as clear-cut as they first appear
The mass shooting in Ohio was the second in the US in less than 24 hours. Earlier, 20 people were killed and 26 others injured in El Paso, Texas, in what appears to have been a hate-motivated crime. Unlike the shooter in Dayton, the alleged perpetrator of the El Paso massacre was apprehended alive by the police.
READ MORE: Reports & '8chan manifesto' identify El Paso shooter as Hispanic-hating, Christchurch-inspired 21yo
Think your friends would be interested? Share this story!