El Paso shooting being treated as domestic terrorism case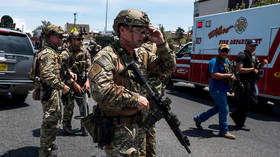 The mass shooting in El Paso, Texas, that left 20 people dead at a Walmart store, is being treated as a domestic terrorism case. Investigators say the suspect, who is in custody, likely legally owned the rifle he used to kill.
"We are treating [the El Paso shooting] as a domestic terrorist case, there's a statutory definition of domestic terrorism .... this meets it. It appears to be designed to intimidate a civilian population," US Attorney for Western District of Texas John Bash said at a news conference, Sunday.
He added that "we're going to do what we do to terrorists in this country, which is to deliver swift and certain justice."
The shooter, earlier identified as 21-year-old Patrick Crusius, was said to be cooperating with the investigation.
The suspect is believed to have bought the firearm used during the rampage legally, El Paso Police Chief Greg Allen said.
READ MORE: 20 confirmed killed in El Paso Walmart shooting rampage
Prosecutors will be seeking the death penalty for the suspect.
Also on rt.com
Reports & '8chan manifesto' identify El Paso shooter as Hispanic-hating, Christchurch-inspired 21yo
The El Paso massacre took place early on Saturday when Crusius, armed with an AK-style rifle, stormed a local Walmart shooting people in the parking lot and inside the store. At least 20 people were killed and 26 more injured.
A "manifesto" was posted online before the rampage, allegedly detailing the shooter's extreme-right views and branding the attack a response to the "Hispanic invasion" of Texas. The four-page document was apparently influenced by the manifesto of the Christchurch mosque shooter, who massacred over 50 people in New Zealand in March.
The document is yet to be directly linked to the shooter, police said on Sunday.
Also on rt.com
Dayton shooter who killed 9 people outside local bar identified as 24yo Connor Betts
Think your friends would be interested? Share this story!