WaPo headline linking anger at Sri Lanka terrorist attacks to 'far right' draws Twitter's ire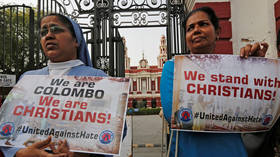 The Washington Post is under fire for printing a story with a contentious headline, implying that anger over the recent spate of bombings in Sri Lanka is unique to the "far right."
Titled "Christianity under attack? Sri Lanka church bombings stoke far-right anger in the West," the piece drew outrage online far and wide for its recklessly phrased headline.
In its story, the Post cites right-wing leaders and activists across the US and Europe – such as Marine Le Pen, leader of France's National Rally party – who view the bombings in Sri Lanka as part of a greater attack on Christianity.
While the Post does acknowledge that "Christian minorities are targeted around the world," some took the piece itself to be a religious slight.
Also on rt.com
Chilling VIDEO shows suspected Sri Lanka church bomber moments before explosion
"If you [need] any further proof that the Washington Post is anti-Christian, check out this asinine headline," one user said on Twitter.
A wave of terrorist bombings in Sri Lanka killed over 300 people on Easter Sunday. Forty suspects have been taken into custody so far, and Sri Lankan authorities believe a religious extremist group known as National Thowfeek Jamaath coordinated the attacks. The Islamic State group took credit for the bombings, but provided no evidence to support its involvement.
Also on rt.com
Sri Lanka blasts: 'Some links' to ISIS possible, 4th hotel targeted, might be more attacks, PM says