Countdown to Mueller report release: Russiagate's end or just another conspiracy chapter?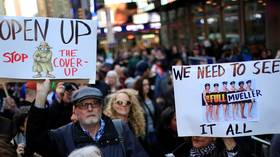 Odds are the publication of the long-awaited report by special counsel Robert Mueller will not change the minds of those invested in the conspiracy theory that President Donald Trump 'colluded' with Russia to get elected in 2016.
The US Department of Justice has announced it will publish Mueller's full report, with some redactions to protect sensitive information, on Thursday, April 18 – less than a month since Mueller turned it in to Attorney General William Barr.
Redactions will hide secret grand jury information, intelligence-gathering sources and methods, information related to active investigations and information that would affect the privacy of third parties who were not charged, Barr said.
The AG's four-page letter to Congress summarizing the report on March 24 concluded that the investigation "did not establish" that any Trump campaign members "conspired or coordinated" with the Russian government to influence the 2016 election. Barr also said that he and Deputy AG Rod Rosenstein concluded, based on Mueller's report, that Trump's conduct during the probe did not amount to obstruction of justice.
Also on rt.com
Mueller's 'Russia probe' made half of our politicians look like conspiracy theorists – Lee Camp
Democrats greeted Barr's letter with dismay, insisting on seeing the full report as soon as possible. Mueller was the last hope of many in the Democrat "Resistance" who have clutched at every straw imaginable since November 2016, when Trump defeated Hillary Clinton despite every mainstream media outlet giving her 90-plus percent odds of victory.
The notion that Trump had "colluded" with Russia to somehow steal the election from Clinton was first floated by her campaign in the immediate aftermath of their shocking defeat. It was subsequently picked up by the mainstream media and spun into a conspiracy theory of gargantuan proportions.
The two-year Mueller probe employed 19 lawyers, a team of 40 FBI agents and other specialized staff. It sent out over 2,800 subpoenas, executed 500 search warrants, interviewed around 500 witnesses and made 13 requests for evidence to foreign governments. None of the indictments against any Trump campaign officials had anything to do with the 2016 election.
Yet millions of dollars were raised by individuals pledging to "investigate Russia" and who have refused to come to terms with the outcome of the 2016 election. Media personalities on CNN – and MSNBC in particular – who built their audiences on Russiagate for the past two and a half years were literally in tears after the Mueller probe concluded without any new indictments, and Trump gloated about being completely exonerated.
Also on rt.com
Putin on Mueller investigation: It's 'total nonsense' targeted at domestic US audience
A version of the report with far fewer redactions will be made available to "a limited number of Members of Congress and their staff" in an appropriate, secure setting, US attorney for the District of Columbia Jessie Liu said in a court filing on Wednesday.
It seems unlikely, however, that this will finally silence endless speculation about Trump's "Kremlin ties," with legions of Americans still desperately determined to find a reason to believe that Orange Man Bad.
Perhaps 4/18/2019 at 9:30 AM EDT will live in infamy as the moment when the US finally realized where the Russia Hacks are: in cable news, Congress, and political punditry, all of which promoted a chauvinist, disastrous conspiracy theory for 2+ years prior. pic.twitter.com/b7FFLRwkDJ

— Aaron Maté (@aaronjmate) April 17, 2019
Think your friends would be interested? Share this story!
You can share this story on social media: