'Imagine him in UFC!' WATCH Ovechkin KO reckless NHL rookie Svechnikov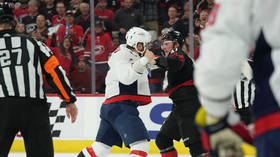 Alex Ovechkin has knocked out a rising NHL star Andrei Svechnikov with just a few powerful punches as things got heated between the Washington Capitals and the Carolina Hurricanes during the their Stanley Cup playoffs game.
The first period of Game 3 of the first round playoff series saw some serious action between the two Russians. Gloves were dropped at the ninth minute after 19-year-old Svechnikov apparently provoked the captain of the Washington Capitals to lose his temper.
While the Hurricanes forward managed to swing a few hooks in Ovi's direction, the more experienced Capitals winger dropped his opponent with a few direct blows with his hard right. The Barnaul native stayed on the ice for a few minutes before being led off the rink by his teammates.
Both players received five-minute penalties for fighting, and Svechnikov was ultimately barred from returning. Despite his early exit, Carolina won the game 5-0. Washington, however, still leads the series 2-1.
You can share this story on social media: