Brock Lesnar loses WWE Universal Title at WrestleMania, clearing path back to UFC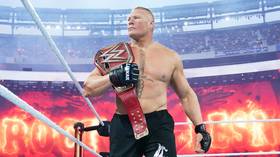 Brock Lesnar made a shock early appearance as he took over the opening match spot at WrestleMania, but lost his title, leaving people wondering whether his switch to the UFC is now sealed.
The rumors linking Lesnar with a return to the UFC got even stronger when he lost his WWE Universal Title in surprising fashion to underdog Seth Rollins, with Lesnar's manager Paul Heyman even teasing a flight to Las Vegas to join up with the MMA organization.
Also on rt.com
'Lesnar would be the next fight': UFC champ Daniel Cormier delays retirement to face WWE star
The real-life storyline of Lesnar's strongly-rumored return to the octagon to face Daniel Cormier for the UFC heavyweight title merged with the scripted storylines of the WWE as Lesnar's manager Paul Heyman interrupted a crowd warm-up session by Hulk Hogan and Alexa Bliss.
Grabbing a mic and addressing the crowd, Heyman stated that if his man wasn't on last, then he wouldn't wait a moment longer and would instead come on and have his match first.
"We're getting our business done and we're getting on a jet to Las Vegas, where my client is 'Ultimately' appreciated," he said.
Lesnar started the matchup in typically dominant fashion, throwing Rollins around with consummate ease.
But the hulking former UFC heavyweight champion went on to lose his match to Rollins in a result that shocked the crowd at the MetLife Stadium in New York. But the outcome makes complete sense for those who believe in Lesnar's return to the UFC.
Reigning UFC heavyweight champion Daniel Cormier has made no secret of his desire to face Lesnar, and the pair even faced off inside the octagon in a meeting that blurred the lines between real-life prizefighting and the pre-meditated posturing of a pro-wrestling 'promo'.
And with none of the promotional commitments that come with holding a WWE title, Lesnar's timely defeat at WrestleMania would appear to leave him free to make the part-time switch back to mixed martial arts in a bid to become a two-time UFC heavyweight world champion.
Could a Cormier vs Lesnar announcement be imminent? Watch this space.
You can share this story on social media: