'Hold your nose and look for hate speech' – Breitbart says Google tried to slash its ad revenue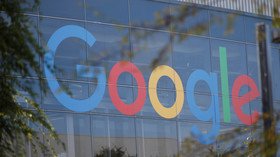 Leaked emails purportedly show that Google officials plotted to choke conservative news site Breitbart of advertising revenue, by combing the site for evidence of "hate speech" and "fake news."
"Anyone want to hold their nose and look through Breitbart.com for hate speach? [sic]," Google employee David Richter asked his colleagues in February 2017, according to emails reportedly leaked to Breitbart.
The discussion thread, started less than two weeks after President Trump's inauguration, was simply entitled "resist."
Richter, currently working on privacy and security at Google's cloud storage division, attached an email from fellow employee Richard Zippel, who assured staff that "when sufficient violations have been found we'll take action at the site level."
Except, Richter pointed out, Breitbart hadn't actually published any concrete examples of 'hate speech.' Its writers, he wrote, are "artful in demeaning other groups without being explicit about it." Rather than give up, the Google team vowed to leave no stone unturned in their quest for the elusive hate speech.
Google's Director of monetization, Jim Gray, chimed in to let the team know that user comments – almost universally more extreme than the content that inspired them – could be considered when looking for examples.
Jeff Lakusta, head of technical support for Google's ad-buying software, joined the chat with a helpful spreadsheet that employees could use to collect examples of forbidden speech. This sheet could then be sent off to Google's AdSense, who would make the call on whether to demonetize Breitbart. Even without the concrete evidence, the AdSense team were on board, with employee Ryan Garza writing that the company had "a moral argument to be made as well as a business case" for banning Breitbart.
At least three of the employees in the email thread had already penned a letter to the higher-ups at Google, asking them to demonetize Breitbart. GIven that Google controls almost half of the market for internet advertisements (Facebook, another famously liberal Silicon Valley company, owns around a fifth), demonetization can break an online news site.
Also on rt.com
KKK recruiting in Pittsburgh neighborhood where synagogue shooter murdered 11 Jews
Google never demonetized Breitbart in the end, and a spokeswoman for the tech giant told the right-wing news site that its hate speech policies are enforced "vigorously, consistently and without any political bias." The emails published by Breitbart were simply evidence the site was under review, she continued.
As Conservatives in America continue to claim unfair treatment from liberal Silicon Valley tech giants, Breitbart and Google have exemplified the divide. According to another tranche of internal Google emails leaked recently, staff discussed reducing Breitbart's visibility in search results.
In a mail sent one day after Trump won the 2016 election, engineer Scott Byer vowed to "Make sure that we reverse things in four years," adding that "demographics will be on our side."
"How many times did you see the Election now card with items from opinion blogs (Breitbart, Daily Caller) elevated next to legitimate news organizations?" Byer continued. "That's something that can and should be fixed."
While it is the biggest and most powerful, Google is not the first company to balk at working with Breitbart. Left-wing activist group Sleeping Giants has spent the last two years convincing companies to pull their ads from the site, and claims to have persuaded over 4,000 firms to sever ties with Breitbart.
For over two years, we've been asking advertisers if they're aware of being placed on Breitbart. Over 4,060 of them have decided to remove themselves because of exactly what @sarahkendzior encapsulates so perfectly here. Rhetoric matters. https://t.co/0yBNClZctc

— Sleeping Giants (@slpng_giants) December 10, 2018
And nor is Breitbart the only news organization feeling the squeeze from big tech. From Alex Jones to Abby Martin, both right-wing and left-wing sites have been punished for going against the grain. And the methods used are the same. Google staff may have threatened to 'de-rank' Breitbart, it actually went ahead and did it to RT later last year.
Eric Schmidt, CEO of Google's parent company Alphabet said at the time that while he was "very strongly not in favor of censorship," he did support "ranking" results, despite the end result being functionally the same.
Think your friends would be interested? Share this story!
You can share this story on social media: