Milo Yiannopoulos banned from Patreon over past association with Proud Boys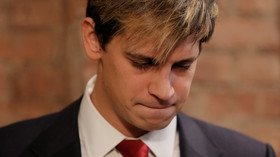 The crowdfunding platform cited past endorsement of the right-wing group Proud Boys as pretext to ban the controversial speaker, who says he is $4 million in debt after losing a book deal and a place on a lucrative speaking tour.
The ban puts a dent in the plan by British-born Yiannopoulos to mount a "magnificent 2019 comeback" announced earlier this week, which promised supporters ready to shell out $750 a month personalized access – including an annual dinner, a phone call on their birthday, and 24/7 availability on WhatsApp.
Some political adversaries of the once-influential Breitbart columnist pitied him for being reduced to dancing for his supper, while others immediately demanded that he be de-platformed by Patreon, as they had with every other attempt by Yiannopoulos to engage in public life.
The San Francisco-headquartered Patreon quickly obliged, though admitting that the content Yiannopoulous posted, however lacking in dignity, did not violate any of its rules.
In a letter Yiannopoulos posted on his Instagram account, the platform accused him of breaking community guidelines connected with "violent organizations."
"Your past association with the Proud Boys, though recently disavowed, is in breach of our guidelines," said the letter, which stated that Yiannopoulos could apply for reinstatement.
The Proud Boys themselves were taken off Patreon in May, presumably for falling under the category of "violent or dangerous groups (including terrorist or cyber terrorist organizations, organized criminal groups, and violent hate groups)."
The link between the Proud Boys and Milo appears tenuous enough – while he frequently shared the stage with them and attended their events, he was not a full-fledged member, nor did he incite any violence as part of the group.
The organization's own credentials as a threat appear to originate with its designation as a "hate group" by the activist NGO Southern Law Poverty Center, after a brawl in October with the Antifa, who ambushed them in New York and sparked a fight by throwing a bottle at one of the members.
READ MORE: Proud Boys founder Gavin McInnes banned from Australia
Although the FBI recently denied that it listed the Proud Boys an extremist movement, the group has since been disavowed by Gavin McInnes, who founded it in 2016 as a means of combating political correctness and reaffirming belief in Western civilization. Yiannopoulos did the same, in a reluctant editorial.
While the 34-year-old's newest humiliation was met with cheers online, growing concern has been expressed on the political right at what they see as selective corporate censorship exerted by social media platforms and providers. Twitter had banned Yiannopoulous long before de-platforming Infowars' Alex Jones, while Patreon has also recently barred right-wing journalist Lauren Southern.
Think your friends would be interested? Share this story!
You can share this story on social media: