'I'm the most qualified': Joe Biden stokes rumors he may run against Trump in 2020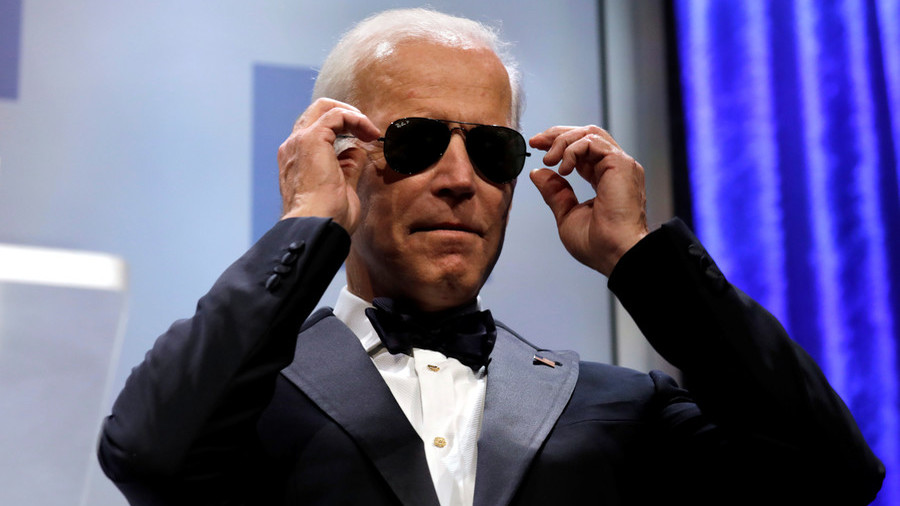 Former Vice President Joe Biden hinted that he might consider challenging President Donald Trump in 2020, telling a crowd he thinks he is "the most qualified person in the country" for a shot at the presidency.
"I'll be as straight with you as I can. I think I'm the most qualified person in the country to be president," Biden told a crowd at a book tour event in Montana on Monday, without skipping a beat. "The issues that we face as a country today are the issues that have been in my wheelhouse, that I've worked on my whole life."
Even the moderator on the night, Bruce Feiler, played devil's advocate. Biden, he said, is too old; co-sponsored the Clinton crime bill – responsible for incarcerating millions of young black men, many for non-violent drug offenses; chaired the Senate Judiciary Committee during the Anita Hill hearing, and is therefore out of touch with the mores of the #MeToo era.
Besides, Feiler continued, "who wants to wake up at 6am for the next two years and get insults from the President of the United States?...You're a gaffe machine. I could go on. Which of these scares you the most?" Nevertheless, he persisted. "I'm ready to litigate all those things, the question is what kind of nation are we becoming? What are we going to do? Who are we?"
Biden's bold insistence on a presidential run is not a new turn for the former VP. Days before departing the White House, Biden told reporters that he is "going to run in 2020," but he later dismissed that statement, saying "I am not committed to anything."
A campaign against a seasoned insult-slinger like Trump would be a brutal one though. While Feiler called Biden a "gaffe machine," the current president would surely dream up far more cutting nicknames for a man who has been accused of inappropriately touching countless women and children, some of whom recoiled at whatever it was he whispered in their ears.
Despite his age, questionable history, and 'creepy uncle' vibes, Biden is popular among Democrats. A recent Harvard poll put him as the forerunner in a crowded field of candidates, with 28 percent of the vote.
Behind Biden, socialist stalwart Bernie Sanders placed second, with 21 percent of the vote. Sanders' platform of socialized healthcare, an increased minimum wage, and free college tuition played well with millennial voters in 2016. In an interview with AP, published Monday, the 77-year-old senator's 2016 campaign manager said that Sanders will be a "front runner" if he decides to run again, adding: "It'll be a much bigger campaign if he runs again, in terms of the size of the operation."
Outside the political establishment, CNN President Jeff Zucker teased a run for office in a podcast interview with Democratic strategist David Axelrod on Monday. Meanwhile, headline-hungry attorney Michael Avenatti abandoned his own White House ambitions on Tuesday, after recent domestic violence charges and the loss of porn star client Stormy Daniels' defamation suit against President Trump.
And what about Hillary Clinton? The one-time contender for Madam President dropped a few hints towards another White House bid recently, but has fallen out of favor with her party as of late. Multiple liberal newspapers have run op-eds groaning at her continued attempts to stay relevant, with the New York Times' Michelle Cottle writing "someone needs to perform an intervention before she further complicates life for her fellow Democrats."
Think your friends would be interested? Share this story!
You can share this story on social media: