Rebel Democrat Tulsi Gabbard hints at 2020 run with a tour of first primary states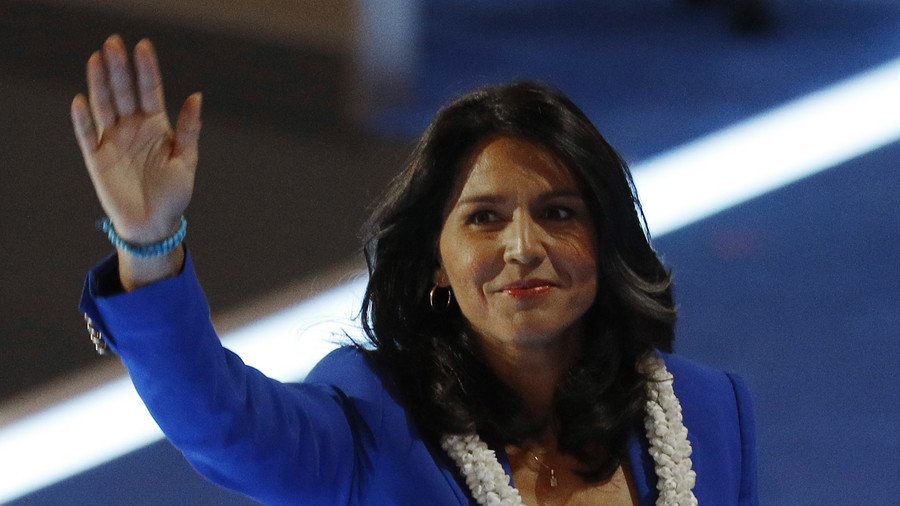 Congresswoman Tulsi Gabbard (D-Hawaii) has indicated her desire to run for president in 2020. The outspoken anti-war advocate said that she is thinking of how she can "best be of service" to the US in a meet-up in New Hampshire.
Speculation has been rife that Gabbard, who backed Bernie Sanders in 2016, is contemplating a presidential bid of her own. However, the popular Hawaii Democrat was tight-lipped about the prospect so far, despite making a series of appearances at high-profile progressive events, firing up her base in Iowa and New Hampshire, the first and the second states to host nationwide party primary elections.
Gabbard was in New Hampshire to drum up support for her progressive cause on Sunday, when she was asked whether she had already set a date for the big announcement. Short of providing an unequivocal response, Gabbard said that she has been "seriously thinking of how I can be best of service to our country."
If she ventures to join what is expected to become a crowded field of Democratic contestants, Gabbard might have to face off with Sanders, who also recently signalled another run.
Asked whether the Vermont Senator's decision would influence hers, Gabbard made clear a possible clash is not on the list of her concerns.
"I think you'd better ask him what his plans are, I'm thinking about how I can be best of service to our country," she doubled down.
Addressing a packed audience at Rockingham County on Sunday, Gabbard covered many nationwide issues, such as the dominance of big corporate money in US politics and the "counter-productive" interventionist policy of the successive US administrations.
"I've been meeting with progressive leaders and activists who are doing the work that's necessary on the ground to make the kind of change that we need to see across the country at the local level and the national level," she told Honolulu Civil Beat in the wake of the meeting.
Rumors of Gabbard's anticipated run have been circling for several months. In September, she headlined a summit of several hundred progressive and grassroots activists in New Hampshire.
In October, Gabbard was one of the keynote speakers in the annual Johnson County Democrats fundraiser in Iowa, where she was reportedly cheered on by supporters to consider a presidential campaign.
Gabbard resigned as Democratic National Committee (DNC) vice-chair in early 2016 to endorse Sanders and has long since fallen out with the Democratic establishment.
She angered the mainstream left by going on a private fact-finding mission to Syria in 2017, during which she met with President Bashar Assad and other officials. Gabbard, an Iraq War veteran, argues that the US's primary goal in Syria is to topple the Assad government through terrorist proxies on the ground.
The anti-interventionist congresswoman, known for speaking her mind, recently drew a massive backlash for pointing out that the Trump administration acts "as protectors of AQ [Al-Qaeda] in Syria/Idlib."
Gabbard also recently called Trump "Saudi Arabia's b*tch" for his decision to stand with Saudi Arabia in the aftermath of the killing of Washington Post contributor Jamal Khashoggi.
READ MORE: 'Hillary will run again' is a headline that even Trump haters hate
If Gabbard does run, she would be joining what promises to be a tightly-contested field, as several prominent Democratic party figures have already indicated similar intentions, including Senator Cory Booker of New Jersey, Kamala Harris of California and Senator Elizabeth Warren of Massachusetts, who recently said that she would "take a hard look" at the prospect of running in 2020.
Former Democratic presidential nominee Hillary Clinton is not entirely out of the game either, as rumors of her launching another presidential bid endure.
If you like this story, share it with a friend!
You can share this story on social media: