Rep. Gabbard under fire after refusing to accept 'Assad did chemical attack' without proof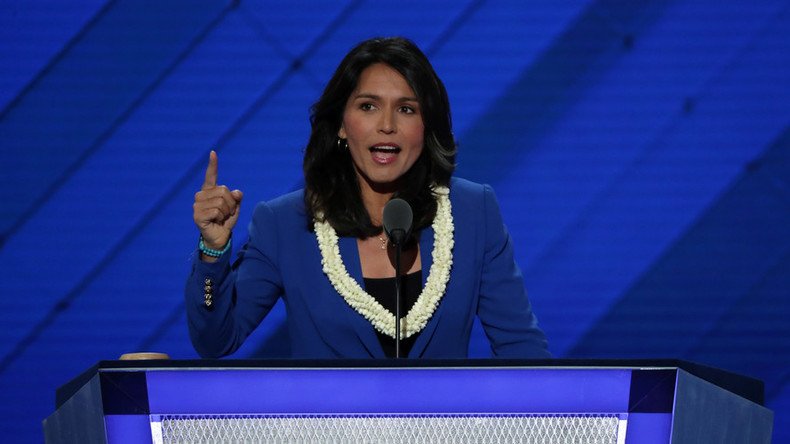 Democratic congresswoman Tulsi Gabbard has provoked a backlash from senior Democrats after refusing to take Syrian President Bashar Assad's complicity in the Idlib chemical attack at face value and demanding proof.
Speaking live on CNN in the aftermath of the US missile strike against the Syrian airfield near Homs, Gabbard said she remained "skeptical" of the allegations, and reminded the host of the destructive invasions in Libya and Iraq, the latter based on a false intelligence pretext. The Democratic representative from Hawaii also called out US President Donald Trump for the "reckless" and "unconstitutional" attack.
The remarks infuriated some "progressive" Democratic figures, including former Democratic National Committee (DNC) chair Howard Dean and former Hillary Clinton policy director Neera Tanden, now the President of the Center for American Progress, a pro-Democratic Party think tank. The two suggested on Twitter that Gabbard, who also famously visited Syria for a covert "fact-finding" mission, should be expelled from Congress for her doubt of Assad's guilt.
"People of Hawaii's 2nd district – was it not enough for you that your rep met with a murderous dictator? Will this move you?" Tander wrote on Twitter on Friday, referring to Gabbard's recent comments she made to CNN.
Dean, who served as Vermont Governor from 1991 to 2003 and led the DNC from 2005 to 2009, branded Gabbard's stance on Syria "a disgrace."
"Gabbard should not be in Congress," he wrote on Twitter on Sunday. Asked by one of the users why the former Governor did not display a similar indignation over "Hillary Clinton's mistakes," Dean responded: "Engaging in dialogue isn't the problem. It's claiming there is doubt Assad uses chemical warfare."
In an interview to the channel which aired on Saturday, Gabbard refused to be convinced by the undisclosed evidence that Trump and Secretary of State Rex Tillerson have cited when justifying the launch of 59 Tomahawk missiles against a Syrian airbase.
Despite being repeatedly pressed by CNN's Wolf Blitzer to unconditionally accept the so far unrevealed intelligence, Gabbard retorted: "Last time I checked, Wolf, the Congress has the authority and responsibility for declaring war, for authorizing use of military force."
"Whether the President or the Pentagon or the Secretary of State say they have the evidence the fact remains that they have not brought that evidence before Congress, they have not brought that evidence before the American people and have not sought authorization from Congress to launch this military attack on another country," Gabbard said.
She went on to argue that the US has been waging an illegal proxy war aimed at toppling the Syrian government "for years," which has only resulted in the "suffering of the Syrian people, hundreds of thousands of people dead, millions of refugees and the strengthening of terrorist groups in Syria like Al-Qaeda and ISIS."
Gabbard, who is an Iraq War veteran and sits on the Armed Services and Foreign Affairs Committees, cited the Iraqi invasion as an example of "completely destructive, counterproductive war."
The congresswoman courted controversy after going on a private fact-finding mission to Syria earlier this year, after it was revealed that she met with Assad, as well as with civil, religious, and opposition leaders and civilians.
"Their message to the American people was powerful and consistent: There is no difference between 'moderate' rebels and Al-Qaeda / Al-Nusra or ISIS – they are all the same," Gabbard said at the time, drawing strong criticism from the US establishment, with many accusing her of cozying up to Assad.
She has been a vocal opponent of Washington's support for the rebels in Syria, arguing that weapons often end up in the hands of the terrorists.
In December, Gabbard introduced the Stop Arming Terrorists Act, designed to stop the US government from providing direct assistance to terrorist entities, urging to "prohibit the Federal government from funding assistance to countries that are directly or indirectly supporting those terrorist groups."
READ MORE: Rep. Gabbard calls on US govt to stop 'supporting terrorists' after meeting Syria civilians & Assad
You can share this story on social media: