Straight-talking Tulsi's rising star means setting sun for Dem Party establishment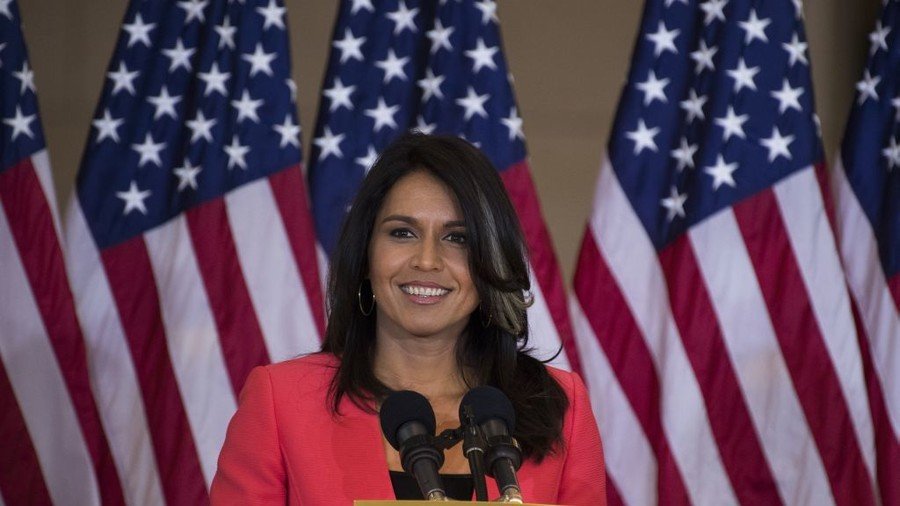 Tulsi Gabbard's blistering criticism of President Trump over his pardon to Saudi Arabia has further elevated her prospect of becoming the standard bearer in the 2020 presidential election, shaking up the Dem Party establishment.
The 37-year-old Hawaiian representative this week blasted Trump for being "Saudi Arabia's b*tch" after he controversially backed the Saudi regime over the brutal murder of journalist Jamal Khashoggi. Trump said the US-Saudi relationship was too important to consider a rupture with the oil kingdom's rulers.
Trump's prioritizing of commercial and strategic interests over the brutal killing of a US-resident journalist in the Saudi consulate in Istanbul on October 2 was met with widespread disdain among American politicians and media this week. But Gabbard's put down was probably the most scathing and memorable.
It's this kind of combative chops, underpinned by a progressive and intelligent perspective, that has got her noticed. US voters have long been let down by would-be challengers to establishment politics. Still, Tulsi Gabbard is raising hopes she could lead a popular revolt all the way to taking the White House.
Since she was first elected to Congress in 2012, Gabbard has seen her public profile steadily rise as a national figure. Backed by "socialist" Senator Bernie Sanders and many of his younger following in the Democratic Party, Gabbard is increasingly touted as a presidential contender for 2020, when Trump plans to run again.
She is viewed as one of the new wave progressives who are promising to shake up the Democratic Party establishment. Supporters rally behind Gabbard because she is not afraid to speak out against vested interests, even when that puts her on the out with party bosses.
In 2016, she resigned from the Democratic National Committee over claims that it was skewing the presidential candidate nomination in favor of Hillary Clinton against Bernie Sanders. Gabbard further riled the DNC when she subsequently endorsed Sanders. Her stand against the party establishment earned a lot of kudos among the younger, progressive wing of the party, many of whom are openly identifying themselves as "socialist."
That wasn't the first time Gabbard bucked party hierarchy. During the Obama administration, she frequently went on national TV shows to denounce his policy of military intervention in Syria and Washington's support for anti-government militant groups. She has consistently condemned US overseas wars and regime-change intrigues.
As a veteran of the Iraq War, twice deployed, Gabbard's criticism of American military adventurism has an authority that few can dispute.
Last year, she visited Syria and met with President Bashar Assad in what she said was a "fact-finding mission." Undeterred by US media criticism of her trip, Gabbard has since praised Syrian and Russian military efforts to defeat terrorism in the country. She also challenged Western media claims that Assad's military forces were guilty of using chemical weapons, and she slammed Trump for ordering airstrikes supposedly in retaliation to CW use by the Syrian Army.
Also on rt.com
Rep. Gabbard under fire after refusing to accept 'Assad did chemical attack' without proof
Unlike other newly elected House Democrats who now have a majority in the lower chamber, Gabbard has gained ample experience and expertise in foreign policy issues. She has served on House of Representatives committees for foreign affairs and armed services. And she confidently argues her case.
In one congressional hearing, Gabbard schooled former NATO Commander Philip Breedlove about American hypocrisy over claims of Russian meddling in US elections. She reminded the general that the US has interfered in elections in over 80 countries, including Russia, going back several decades.
When the congresswoman blasted Trump this week for his pardon to Saudi Arabia over the Khashoggi killing, it was consistent with her straight-talking style.
Previously, Gabbard has called for the US to end its arms sales to Saudi Arabia, which she has accused of sponsoring terrorist groups across the Middle East. She also introduced legislation in congress which outlaws US support for countries that are linked to terrorism.
It was partly her outspoken criticism of Obama and Clinton over military interventionism that brought Gabbard to Trump's attention. Soon after his election, the Hawaiian Democrat was invited to Trump Tower in a meeting set up by then-aide Steve Bannon. There was even talk of her being offered the position of Secretary of State in Trump's cabinet. A Democrat in a Republican cabinet!
Nothing came of it. But her stinging rebuke of Trump this week over Saudi Arabia would show that Gabbard isn't shy about speaking truth to power, even if at one time she dallied with the Trump camp.
Her feisty outspokenness is, however, something that could set the Democratic Party establishment against Gabbard. Her calls for campaign finance reform and tougher regulation of Wall Street, as well as for slashing Washington's gargantuan year-on-year military spending, may well rally progressives inside and outside the party. But for Democrat grandees in congress, many of them are generously financed by lobby groups tied to the military-industrial complex. Gabbard's rising star means their setting sun as career politicians. Given the control of party machinery, as seen in the debacle over Clinton and Sanders in 2016, the scales could be tipped against Gabbard going forward as the presidential candidate in 2020.
This points to the tension and dilemma within the party. Too often the Democrat establishment is viewed as part of the problem of a Washington duopoly shared with a Republican counterpart. For many ordinary Democrat supporters or would-be supporters, the party has shed any progressive mission, such as fighting for working-class interests, reining in big business through redistributive taxation, and opposing neo-imperial wars.
Also on rt.com
A brave new US Congress or same old hypocrisy?
It is arguable that the Democratic Party's abdication in campaigning on a progressive agenda was one factor in Trump winning the 2016 presidential election over Hillary Clinton, who was seen as a Wall Street surrogate and Pentagon puppet.
Nevertheless, some voices on the progressive left of American politics are wary of Gabbard. They point to her former social conservatism, opposing gay rights and abortion (she was raised a Catholic, although now professes Hinduism); critics on the left also caution against her past "flirting with Trump and Bannon" as indicating a latent right-wing nationalist tendency.
Such criticism may seem pedantic, though, to many ordinary American voters.
Tim Gatto, a radio host on the Liberal-Pro station, thinks that Gabbard has what it takes to win the 2020 presidential election, by making the Democratic Party relevant to the mass of voters.
"As a retired vet, I applaud Tulsi Gabbard for speaking out against the US involvement in Syria and the endless wars in the Middle East. I believe she is a true progressive that will continue to champion the America people against the elites," said Gatto.
He added: "Representative Gabbard spoke out against US foreign policy even though she is still a reserve military officer. I think if she isn't co-opted by the powers-that-be in the Democratic Party, then she's the best chance for the progressive left in America to elect a president and bring this nation to its senses."
Think your friends would be interested? Share this story!
The statements, views and opinions expressed in this column are solely those of the author and do not necessarily represent those of RT.
You can share this story on social media: