Heckler accuses Joe Biden of 'molesting girls' on book tour stop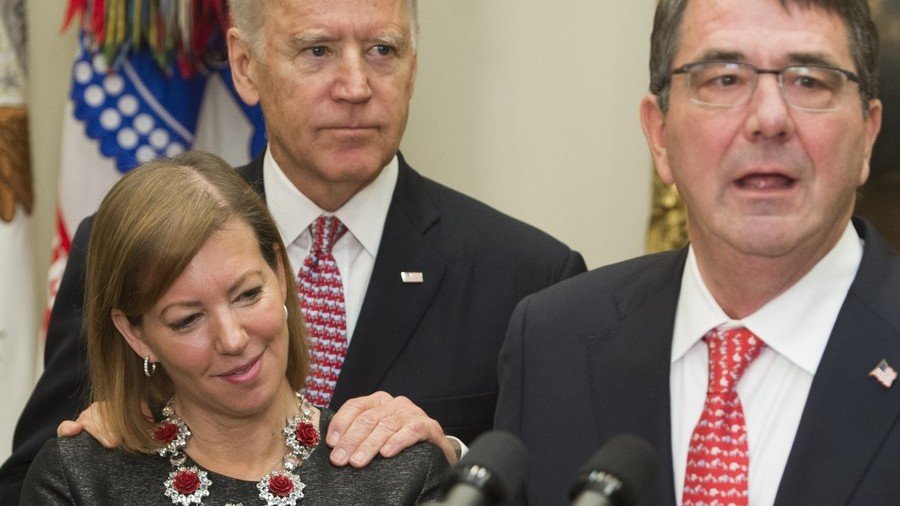 Former US Vice President Joe Biden was confronted during a stop on his book tour in Delaware by a heckler accusing him of molesting young women.
During a talk on his new memoir, Biden had been discussing his late son Beau's feelings on the conviction of pediatrician Earl Bradley for the rape and molestation of young children. It was then that the man in the audience stood up and accused Biden himself of abusing women.
"What about the girls you molested on C-Span at the Senate swearing in?" the man shouted, according to The News Journal in Wilmington.
The man seemed to be referring to an incident in 2015 when Biden tried to kiss the awkward-looking teenage daughter of a US Senator on the head during a Congressional swearing in ceremony. The former vice president has been criticized before for letting his hands wander when around women, often touching them or rubbing their shoulders without permission.
The audience was unamused by the heckler's interruption and began booing and shouting at him. Security then escorted the man out of the room.
Video of the incident later emerged on Twitter and was attributed to a user named PG Howie, who has been a frequent critic of Biden on the social media platform and refers to himself in his profile as someone who "confronts the deep state."
Biden has been an outspoken supporter of the #MeToo movement and the "It's On Us" campaign, which was launched by the Obama administration to raise awareness about sexual harassment on college campuses. In March, he famously said he would have "beat the hell" out of Donald Trump in high school if he had bragged in front of him about groping women — and later apologized for the inappropriate wording.
Think your friends would be interested? Share this story!
You can share this story on social media: