Creepy Veep: Joe Biden chalks up another sensational 'snuggle'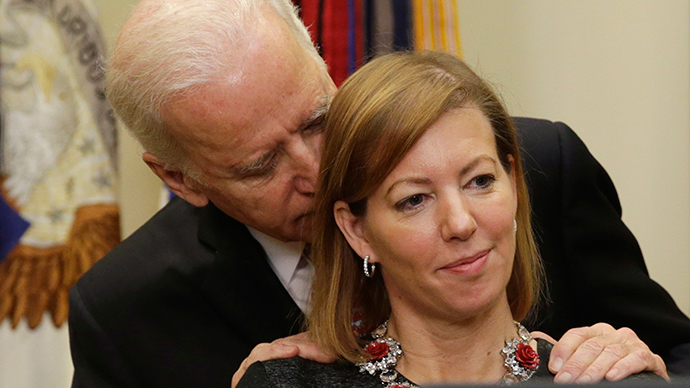 The US vice president, with almost two years to go as America's second in command, is building up a lengthy list of on-air flirtations, which, although seemingly innocent, have not escaped the attention of political observers and social media.
The latest smooth move by Joe Biden to attract the righteous indignation of America's political pundits came on Tuesday, during the swearing-in ceremony for the new US secretary of defense, Ashton Carter.
As Biden welcomed Ashton's wife, Stephanie, to the podium, his hands rested upon her shoulders from behind for 5…15…25 breathtaking seconds. With the cringe factor reaching a palpable high, Biden then pushed his nose into Mrs Carter's hair, whispered something inaudible into her ear, before sliding his hands halfway down her arms.
If Joe Biden did this to my wife, SHE'D knock him out. I'd have to take a number and wait my turn... pic.twitter.com/QDTeCmV8uA

— Brad Thor (@BradThor) February 17, 2015
Mrs Carter, throughout the ordeal, fixated an indifferent gaze on a spot that could have been a fly on the wall across the room or a black hole one million light-years away. In any case, she was a good sport about whatever Biden whispered to her, surrendering a faint nod and chuckle.
And that was it. An apparently innocent gesture by Obama's gregarious, good-natured right hand man has turned into political fodder for America's chattering classes.
Oh, guys, he's just so cute and silly and non-predatory, that Uncle Joe. pic.twitter.com/ejkFgGsXIx

— Ben Shapiro (@benshapiro) February 17, 2015
Or was it something more than just an innocent snuggle, as some are insinuating? Is Joe Biden, 72, aware that the sun is setting on his summer in power, trying to savor every last delicious snuggle the moment affords him?
Some of the more gracious commentators attempted to explain Biden's latest case of touchy-feely-ness as an act of charity for Mrs Carter, who just that morning had taken an embarrassing slip on the ice outside the Pentagon building as she accompanied her husband to his first day on the job.
Others, of course, were less charitable as Twitter caught fire and Biden became the butt of an endless tirade of merciless jokes.
Columnist Ben Shapiro joked, "This video is like Mike Tyson going for Evander Holyfield's ear."
Brandon Morse, meanwhile, tweeted, 'The Creepy Uncle Joe Chronicles Continues,' with a photographic collection of Biden's latest on-air escapades.
READ MORE: Biden caps off gaffe-filled week with homage to alleged sex-offender senator at women's conference (VIDEO)
Just last month, the 47th US vice president was ridiculed for cozying up to Maggie Coons, the young daughter of Senator Chris Coons, during another swearing-in ceremony.
Coons later said the vice president was simply offering words of encouragement to his daughter, who was said to be uncomfortable during the ceremony.
You can share this story on social media: