Biden accused of anti-Semitism after Shylock comment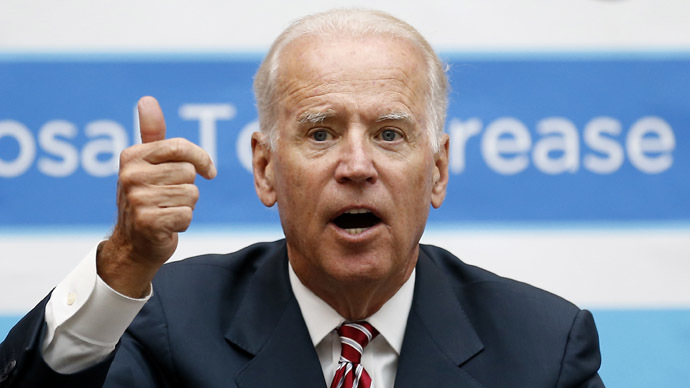 US Vice President Joe Biden has drawn criticism from a top Jewish group for calling bankers who have preyed on service members deployed overseas as "Shylocks," a term often condemned as an anti-Semitic stereotype.
Biden, speaking Tuesday before the Legal Service Corporation, which provides lawyers to those who can not afford them, mentioned his son, Delaware Attorney General Beau Biden, who was deployed for a year in Iraq.
"People would come to him and talk about what was happening to them at home in terms of foreclosures, in terms of bad loans that were being - I mean, these Shylocks who took advantage of these women and men while overseas," Biden said.
Abraham Foxman, national director for the Anti-Defamation League, chastised Biden for using the slur.
"Shylock represents the medieval stereotype about Jews and remains an offensive characterization to this day. The Vice President should have been more careful," Foxman said, according to Yahoo News.
Shylock, a villain in William Shakespeare's 'The Merchant of Venice,' is a ruthless Jewish moneylender who calls for a "pound of flesh" from the merchant who defaults on a loan. Whether the term's use during the 16th-century play was anti-Semitic or not has long been debated.
"When someone as friendly to the Jewish community and open and tolerant an individual as is Vice President Joe Biden, uses the term 'Shylocked' to describe unscrupulous moneylenders dealing with service men and women, we see once again how deeply embedded this stereotype about Jews is in society," Foxman said.
Biden's office did not answer a request for comment.
The Vice President, known for verbal gaffes - some say candor - throughout his career, also said Tuesday that he while he was proud of his children, he wished one of them were a Republican out to make money "so that when they put me in a home, there'll be a window with a view."
At one point, Biden referenced his penchant for freelancing remarks during the speech.
"No one ever doubts that I mean what I say," he said to laughter from the crowd. "The problem is I sometimes say all that I mean."
You can share this story on social media: