US 'Empire of Debt' will go to war to stop emergence of petro-yuan – Max Keiser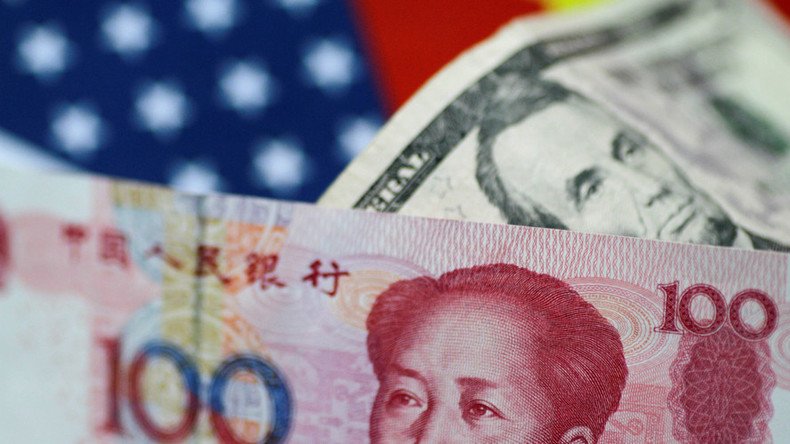 The imminent introduction of oil trading in yuan is a very bold move by the Chinese, because the US will not give up the basis of its hegemony – the dollar as the world's reserve currency – without a fight, Max Keiser, host of RT's financial program 'Keiser Report' has said.
The Chinese plan to roll out a yuan-denominated oil contract before the end of this year is a very brave move, since countries who "tried to exit the oil-dollar matrix have met terrible ends," Keiser pointed out.
"Saddam Hussein wanted to trade oil in Euros and he was killed, Muammar Gaddafi wanted to trade his energy in something other than the US dollar – he was killed," Keiser said.
China, however, has the resolve and the resources to pull-off the de-dollarization, and besides, it's backed by several major countries which are "resistant to America's financial cartel," namely Russia and Iran, Keiser said.
"Kudos to China for taking this project on and of course they are rumored to be a big buyer in the Aramco offering of their state oil facilities coming down the pike," Keiser said, referring to the anticipated sales of shares in the Saudi Aramco state oil company.
"This makes sense, geopolitical sense, in terms you've got China and Russia and the Saudis looking to escape the US dollar, US dollar hegemony."
Saudi Arabia was pushed to the de-dollarization crowd only recently by the US itself, which, last year, allowed survivors and relatives of the victims of the 9/11 attack to sue the kingdom over its alleged role in the terrorist acts, Keiser stated.
"There's decently motivation for the Saudis. They want to float Aramco, they are deeply in debt and they are running out of cash. And they wanted to do an APO [alternative public offering] of Aramco either on London or American exchange, but they prevented from doing so from the legal actions of the 9/11 survivors, who rightly pointed at Saudis as the cause of 9/11," Keiser noted.
Countries worldwide are tired of funding the America's "military adventurism by being a party to the 'Empire of Debt,' as it's known around the world – the US dollar," and therefore, will likely join the de-dollarization movement, Keiser said.
The US financial sector and its military-industrial complex are unlikely to give up the dollar hegemony without a fight, though, as the dollar is both the basis and the main product of America. And the US will use its other favorite tool for it – war, Keiser believes.
"Maybe they will start a war between Japan and China, and maybe they will start a war with North Korea. America will do anything to keep the US dollar as the world's reserve currency," Keiser said.
"They will invade the countries, like Afghanistan, they will stop at nothing. Because this is the basis of the US empire. It's not land-based, it's not based on material goods, it's based on rent-seeking. It's based on landing dollars, getting out income and when countries can't pay they dismantle the assets and take them over. We saw it in Latin America, South America, this is how America built its empire."
You can share this story on social media: