Alleged woman-beater Avenatti gets hit with restraining order – report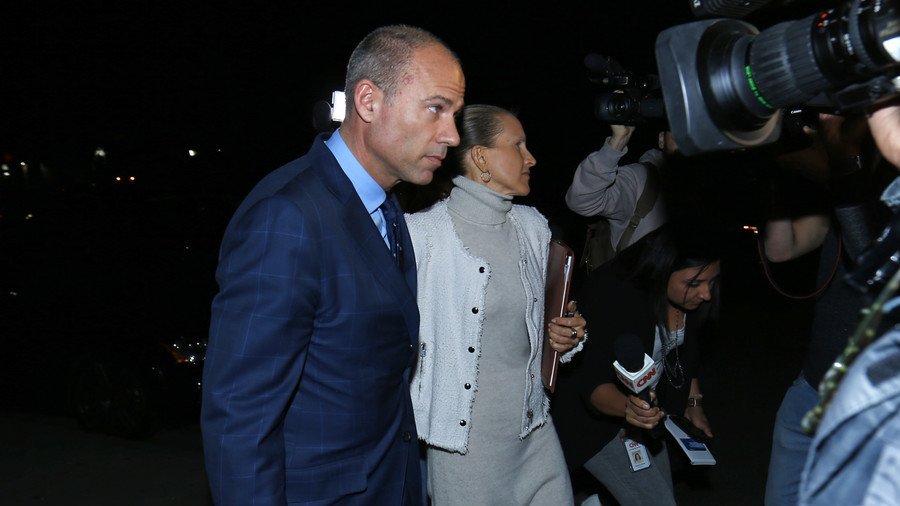 Still protesting his innocence after he was arrested on felony domestic violence charges last week, lawyer Michael Avenatti is reportedly being served with a restraining order by his alleged victim, whose name is finally public.
Estonian-born actress Mareli Miniutti filed for a domestic violence restraining order against the scenery-chewing lawyer in Los Angeles on Monday. The mystery woman, initially believed to be Avenatti's ex-wife Lisa Storie-Avenatti when news broke of his arrest, is now being named by The Blast, which obtained court documents on the restraining order. A hearing on the order will take place next month.
Shortly after the Blast story was published, Avenatti tweeted to maintain his innocence, calling any claims of domestic violence committed by him "bogus and fabricated."
I look forward to a full clearing of my name and disclosure of all of the facts. I have NEVER abused a woman or committed domestic violence against anyone. Any claim to the contrary is completely bogus and fabricated. I am a target. And I will be exonerated.

— Michael Avenatti (@MichaelAvenatti) November 20, 2018
While he initially yelled "she hit me first!" as cops arrested him at his apartment building last Wednesday, Avenatti had changed his story by the time he was released from police custody, telling the press "I have never been physically abusive in my life nor was I last night." He was served with an emergency protective order upon his release.
Miniutti filed a felony domestic violence report with police after Avenatti "kicked her out of the apartment," culminating in an altercation that left her face "swollen and bruised" with "red marks" on both cheeks, according to law enforcement. He was arrested after following her to the apartment, where she had gone to retrieve her possessions.
Avenatti rocketed to fame as the lawyer for porn actress Stormy Daniels and soon became the most-booked guest in CNN's history, seducing anti-Trump broadcasters with his confidence that Trump lawyer Michael Cohen's payoff to the porn star would ultimately bring down the president.
When Trump remained in office, unperturbed by his counsel's betrayal, Avenatti jumped aboard the bandwagon to block Brett Kavanaugh's Supreme Court nomination, parading Julie Swetnick before the cameras with lurid tales of "rape parties," "running trains" on girls, and spiking punch while hinting at further 'unnamed witnesses' who would blow the story wide open. Lawyer and client were both referred to the FBI for investigation of perjury after Kavanaugh was finally confirmed, and NBC admitted they sat on evidence (from both Swetnick and one of the 'unnamed witnesses') that the allegations were false.
It's been all downhill from there for Avenatti, who scuttled his own presidential ambitions by insisting the 2020 Democratic nominee should be a "white male," i.e. himself. Since Daniels lost her defamation suit against Trump and was ordered to pay the president's legal fees last month, Avenatti has mostly concerned himself with vengeance on Tucker Carlson, the Fox News host whose epithet 'creepy porn lawyer' has seemingly gotten under his skin. Last week, Avenatti claimed to be investigating an assault committed by Carlson and his son at a country club, once again citing 'unnamed witnesses' to unspeakable violence against a 'gay immigrant.'
You can share this story on social media: