Midterm elections see slim gains for Democrats in House, extended majority for Republicans in Senate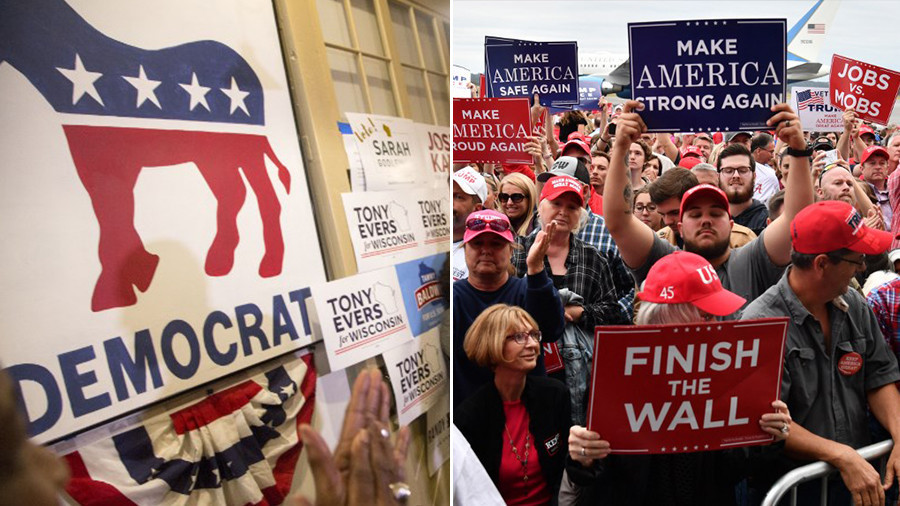 The midterm elections – marked by exceedingly high turnout and media attention – are finally over, and brought mixed results for both parties.
Democrats regained control of the House, gaining 28 seats, with a handful still to be declared. The party's slim majority will allow Democrats to stymie Republican legislation and push for investigations into the president's conduct. Massachusetts Rep. Richard Neal has already said that he intends to formally request President Trump's tax returns.
"When Democrats come into power, what are they going to do? Are they going to actually legislate or is it going to be two years of just investigation after investigation, because I think that plays exactly into Trump's hands for 2020," Ned Ryun, founder and CEO of the American Majority NGO told RT.
While Democrats got the upper hand in the lower house, Republicans extended their majority in the Senate by three seats. The GOP now holds 51 seats to the Democrats' 43, with independents taking two and four yet to be declared. Once all votes are accounted for, the GOP is expected to hold a 53-47 majority in the upper house.
A comfortable Senate majority means President Trump will have a far easier time confirming another conservative Supreme Court justice, should a seat become vacant.
Trump-backed gubernatorial candidates Ron DeSantis (Florida) and Brian Kemp (Georgia) also beat their progressive challengers, Andrew Gillum and Stacey Abrams.
Live updates from election day and night have now ended, as business as usual resumes in America.
Like this story? Share it with a friend!
07 November 2018

07:27 GMT

Democrat Tony Evers has unseated rising GOP star and incumbent Scott Walker in the Wisconsin governor's race. Media reports initially predicted that the tight contest would trigger a recount. According to AP, Evers won with 49.6 percent of the vote, compared to Walker's 48.5 percent.

07:26 GMT

A record number of women were elected to the House of Representatives on Tuesday, NBC News reports. As of Wednesday morning, at least 89 women have won seats. The House has never had more than 84 female representatives during one session.

07:10 GMT

Democrat Stacey Abrams says she is not ready to concede in the Georgia governor's race against Republican Brian Kemp. Although Kemp holds a slight lead, Abrams' campaign said that they were waiting for tens of thousands of absentee and provisional ballots to be counted. Campaign manager Lauren Groh-Wargo predicted that the contest would have to be settled in a runoff election next month.

04:49 GMT

Democrats have flipped 28 seats in the House of Representatives, for a net gain of 26, one more than they needed to secure a majority. Republicans have only picked up two so far.

04:04 GMT

Republican ex-congressman Ron DeSantis narrowly edged out Democrat Andrew Gillum, mayor of Tallahassee, to become Governor of Florida. Gillum conceded with 99 percent of precincts reporting and DeSantis leading by 49.9 percent to 48.9 percent.

03:33 GMT

Republican Kevin Cramer has unseated Democratic Senator Heidi Heitkamp in North Dakota, confirming the Republican Party will hold the Senate for the rest of Trump's term with at least 50 seats plus the Vice President. Heitkamp's seat was considered one of the most vulnerable in the Senate.

03:18 GMT

Republican Ted Cruz edged out Beto O'Rourke to keep his Senate seat in one of the most watched races of the 2018 midterms. Despite O'Rourke's massive $38.1 million war chest – three times as much as his opponent – he was unable to break the Republican party's hold on Texas, which has governed the state since 1994.

02:51 GMT

Democrats are being projected to take over the House. Conservative Fox News channel was the first major US network to call the victory for Democrats. It didn't specify a margin, however.

02:47 GMT

White House spokeswoman Sarah Huckabee Sanders has shared her first reaction to the ongoing close race for the US House of Representatives. She doesn't think there's going to be a 'blue wave' of Democrats overwhelmingly flipping seats, she said.

"Maybe you get a ripple, but I certainly don't think that there's a blue wave," she told reporters.

02:28 GMT

Democrat Rashida Tlaib, who ran unopposed in Michigan's safely blue 13th congressional district, has become the first Muslim woman and the first Palestinian-American woman to be elected to Congress. Former Michigan Rep. John Conyers, who served as a state representative from 1965 to 2017, resigned last year over sexual harassment allegations.