Georgia Dems accused of 'hacking voting system' blame Rep rival for 'power abuse'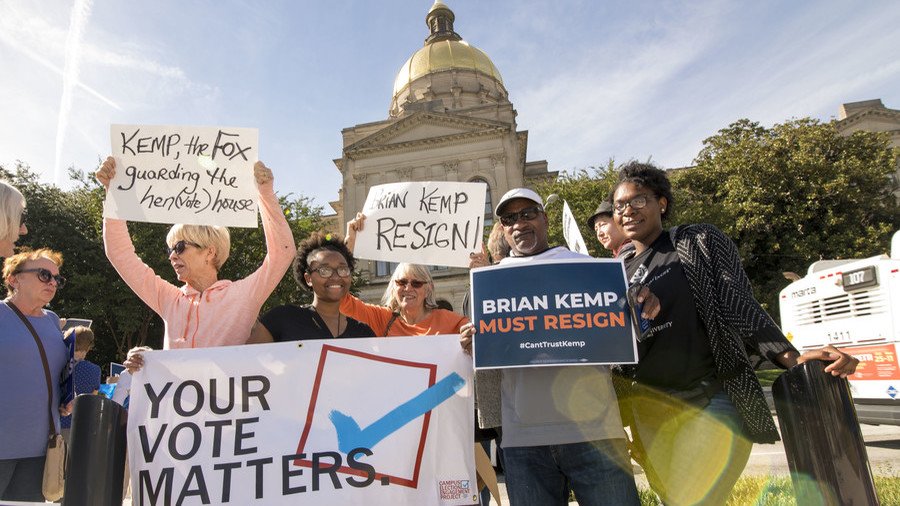 The Democratic Party has firmly denied attempting to hack Georgia's voter registration system after the state's secretary, who is running for governor, leveled the meddling charges against them just days before the midterms.
The Republican Secretary of State of Georgia accused his midterm rivals of attempting to hack the state's voter registration system just two days before the crucial election. While providing no details of the incident, besides that the alleged attempt failed, Brian Kemp's office did say that the federal authorities are investigating the claims.
Ahead of the November 6 vote, in which Kemp will face off against Democrat Stacey Abrams, the system "remains secure" and should allow the vote to proceed as planned as "no personal data was breached."
The Democrats, however, condemned the accusation, charging Kemp with a conflict of interest and accusing the Republican nominee of slander ahead of the vote. The "scurrilous claims are 100 percent false," Georgia Democrats said, accusing Kemp of showing "another example of abuse of power."
"This political stunt from Kemp just days before the election is yet another example of why he cannot be trusted and should not be overseeing an election in which he is also a candidate for governor," the state party's executive director, Rebecca DeHart, said in a statement.
Just days ahead of the vote, the two candidates are running neck-and-neck. Abrams is currently favored by 46.9 percent of the voters while Kemp has 46.7 percent, recent polling from Channel 2 Action News and The Atlanta Journal-Constitution showed.
Abrams, who could become the first African-American woman governor in history, in an interview with the CNN, slammed the accusation made against her party, calling Kemp's actions a "desperate attempt on the part of my opponent to distract people."
'Mad as hell': State of Georgia accuses DHS of hacking into their system
Sunday's allegation against Georgia Democrats is not the first time Kemp cried foul about the alleged hacking of a voter system. In 2016, he accused the Department of Homeland Security of an "unsuccessful attempt to penetrate the Georgia Secretary of State's firewall," before the investigation found the alleged attack to be a routine traffic from a federal employee checking the state firearms license database. Kemp has also been accused of failing to secure Georgia's voting system by allowing hackers to steal private data of six million registered voters in 2015.
Think your friends would be interested? Share this story!
You can share this story on social media: