Utah mayor killed in Kabul the latest victim of perpetual US presence in Afghanistan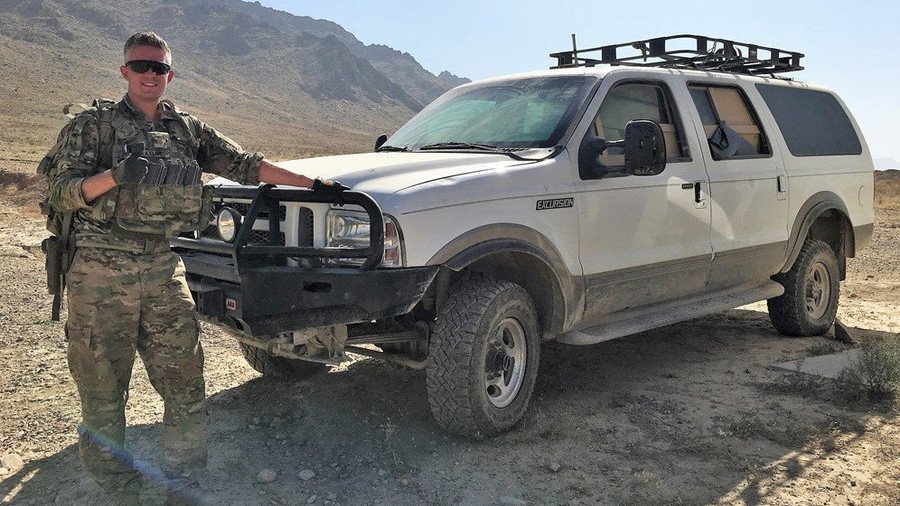 The US serviceman killed in an insider attack in Kabul is identified as Brent Taylor, a mayor from Utah. While shocking to some back at home, this is only the latest such incident in a war that even top brass now call unwinnable.
North Ogden city mayor Major Brent Taylor was deployed to Afghanistan with the Utah National Guard at the beginning of this year. Taylor's trip to Afghanistan was the fourth such deployment for the father of seven and was due to last one year.
Instead, Taylor was gunned down in an "apparent insider attack" in Kabul on Saturday. The gunman was reportedly a member of the Afghan National Defense and Security Forces – whom Taylor was deployed to train and advise. The gunman managed to wound another US service member, before other Afghan forces killed him.
READ MORE: US soldier killed in 'apparent insider attack' in Kabul - NATO
Taylor's death was mourned by Utah Lieutenant Governor Spencer Cox, who wrote that the Afghan war "has once again cost us the best blood of a generation."
I hate this. I'm struggling for words. I love Mayor Taylor, his amazing wife Jennie and his 7 sweet kids. Utah weeps for them today. This war has once again cost us the best blood of a generation. We must rally around his family. Thank you for your sacrifice my friend. 🇺🇸💔 https://t.co/uS9emZgv7s

— Spencer Cox (@SpencerJCox) November 3, 2018
His death was the latest in a series of so-called insider attacks – killings carried out by members of Afghan forces trained by US and Coalition troops. It came less than two weeks after a NATO soldier was killed in another suspected insider attack in western Herat province. Another such incident occurred in Logar province on September 3. Insider attacks have been a consistent threat in the conflict's recent years, claiming dozens of lives at their peak in 2010-2012.
The attacks are emblematic of a war that shows no signs of reaching a conclusion. American and NATO troops have been present in Afghanistan since 2001 and over 2,200 US troops have been killed there in that time frame. Despite major combat operations being halted in 2014, the NATO contingent is still present in the country and there is no clear deadline for the forces' withdrawal.
Meanwhile, the Taliban has proven a resilient enemy. As well as being able to position infiltrators within regular Afghan units, the terror group has expanded its presence in recent months and now controls or influences just over half of the country's 407 districts, according to US military estimates. On Sunday, the Taliban seized another Afghan base in central Uruzgan province.
The threat from the Taliban is compounded by the presence of Islamic State-Khorasan (IS-K) terrorist group, made up of mostly Pakistani Talibs who have pledged loyalty to Islamic State (IS, formerly ISIS/ISIL), and by Al-Qaeda operatives.
Afghanistan's Air Force stepped up its own bombing campaign against the Taliban this year, with Coalition support, but despite dropping tons of US-made ordnance on the Taliban, casualties among Afghan ground forces have skyrocketed in recent months, with the country's military suffering 1,000 fatalities in August and September, according to Pentagon figures.
Against this grim backdrop, Gen Austin Scott Miller, the newly-minted head of US and NATO operations in Afghanistan, admitted last week that the war against the Taliban "is not going to be won militarily," but would require a "political solution."
Less than two weeks before this proclamation, Miller himself narrowly avoided death when a teenage Taliban infiltrator shot a police chief dead in Kandahar province as the two men left a meeting at a local governor's office.
Miller's words signal a change to expectations in Washington. Earlier this year, Secretary of State Mike Pompeo told US troops in Afghanistan that the Taliban "cannot wait us out," and that they "will ultimately have to settle their differences with the Afghan government at the negotiating table."
In August, a State Department official said that the US was doing "everything we can" to bring the Taliban and the Afghan government to the table.
Meanwhile, the Taliban has no interest in negotiating any kind of peace deal with the US involved. In a rare interview, Mullah Tofan, a Taliban warlord, told RT that his group "is not in the hands of Americans" and Taliban leaders would "never give permission to any Taliban members to negotiate" with America.
Think your friends would be interested? Share this story!
You can share this story on social media: