'These aren't little angels!' Trump denounces 'hardened criminals' storming Mexico border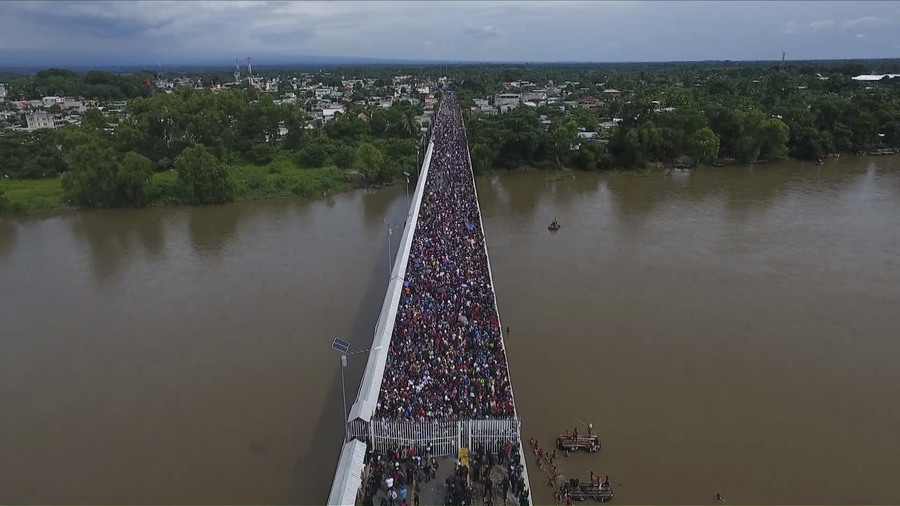 Reacting to reports that a caravan of over 4,000 Central American migrants had breached the southern Mexican border, President Trump slammed the "hardened criminals" and lamented "incompetent" US immigration policy.
Echoing the criticism of Secretary of State Mike Pompeo, who called out the migrants for using their women and children as "shields" during clashes with Mexican police, Trump mocked the "bad hombres" streaming northward as he addressed a defense industry roundtable:
"To show you how brave they are – they put all the women and children up front."
After initially breaching the fence at a checkpoint earlier today, migrants clashed with a group of about fifty police armed with riot gear and pepper spray. Four officers were reportedly injured in the melee. Others used improvised rafts and ropes to cross the river that forms much of the Guatemala-Mexico border. Mexico has dispatched 500 federales to its southern border in the hope of stemming the migrant flow.
READ MORE: Thousands of US-bound migrants storm Guatemala-Mexico border (VIDEOS)
According to some reports, however, it was actually the Mexican authorities asking the migrants to form lines with women and children at the front, police having given up on trying to hold back the human tide as one group of migrants stormed a border fence, pushing and climbing over the flimsy structure, handing babies over their heads in an effort to keep them out of the fray.
Trump has already threatened to send the US military to the Mexican border or even close it off entirely if necessary, an unprecedented move that would threaten a recent trade agreement with Canada and Mexico. He also threatened to cut aid to the migrants' home countries. "I said look, we give you hundreds of millions of dollars, Guatemala, and you're going to stop those people from coming. And they tried, and they broke right through the fences!" Many of the refugees began their journey in Honduras, but the caravan has grown in numbers as it progresses northwards.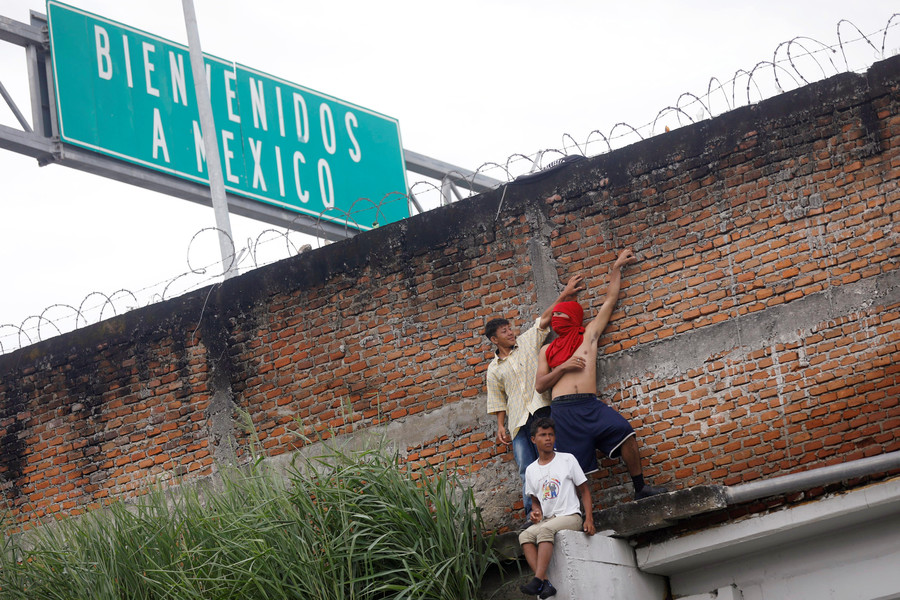 In order to dispatch the military to the Mexican border, Trump would have to declare a national emergency and secure a congressional waiver. He would not be the first president to send the National Guard to the border, however – that move has been deployed by both Barack Obama and George W. Bush.
"These aren't little angels coming into our country," Trump warned the military contractors. Later, at a campaign rally, he reiterated his message, promising to "end sanctuary cities, stop catch and release, visa lotteries, chain migration…and we will kick the drug dealers, murderers and terrorists the hell out of our country."
Think your friends would be interested? Share this story!