Looter trying to steal police car shot in Florida town devastated by Hurricane Michael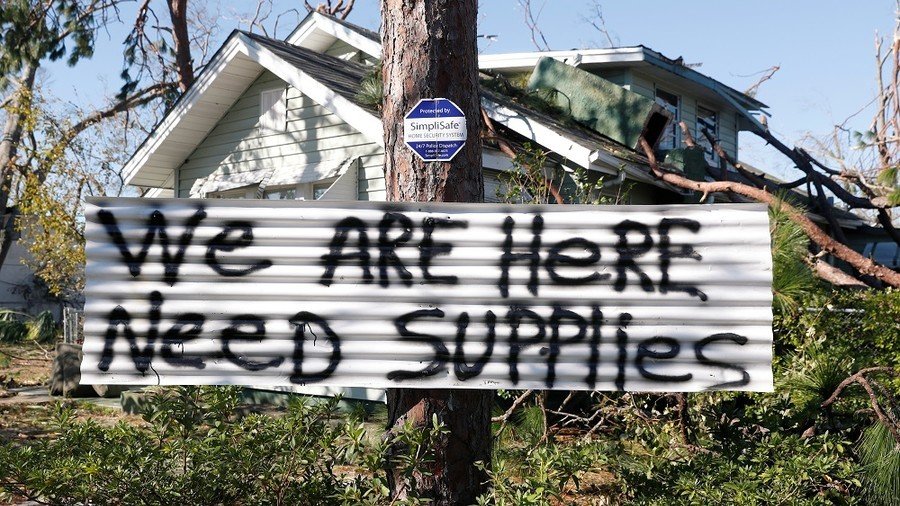 Law enforcement officials in Panama City, Florida have reportedly shot and killed a man who tried to steal one of their vehicles. Looting is a major concern in areas destroyed by Hurricane Michael.
Handmade signs warning off potential looters have sprouted up in the devastated communities in the wake of the storm, one of the most powerful to make landfall in the continental US. Several businesses have been sacked by looters nonetheless. Over the weekend, one looter was killed when he tried to take a SUV belonging to the state fire marshals.
The incident took place in Panama City, about halfway between Pensacola and Tallahassee. Local resident Landon Swett witnessed the shooting.
"He yelled at me a little bit, he said oh, I'm looting, and he opened the door to the police officer's SUV, with the lights going, got in it and shut the door," Swett told Pensacola's WEAR-TV.
At that point Swett took his family and headed inside his home. He turned around to see an officer inside the car confronting the looter. Then he heard the shot.
READ MORE: Before & after PHOTOS show horrifying devastation of Hurricane Michael
The vehicle belonged to Florida State Fire Marshals, and it was one of them who fired the fatal shot, Lieutenant Eddie Elmore of the Florida Highway Patrol told WEAR. The shooting is being investigated. The looter's identity has not been revealed.
WEAR painted a dire picture of conditions in Panama City: no electricity or running water, communications "limited… and at times non-existent," power lines are still collapsed across roadways. Some residents are "getting desperate and are turning to looting," reporters said, describing a smashed convenience store in the area.
Some residents of the panhandle have reportedly defied orders to evacuate, choosing to weather the hurricane in their homes and protect them from looters. Police have declared a curfew in an effort to curb looting: no one is allowed on the roads from dusk till dawn. Violators risk a fine – or worse, if they run into armed residents.
As of Monday, the storm has claimed 19 lives across Florida, Georgia, the Carolinas and as far north as Virginia. President Donald Trump is visiting the affected areas on Monday, and is scheduled to meet with local and state officials.
Like this story? Share it with a friend!
You can share this story on social media: